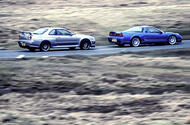 After comparing Honda and Nissan's top performance cars in 2002, which did we think deserved the top spot?
This Autocar match-up proved there was a multitude of approaches to creating a Japanese performance car.
In the blue corner, a facelifted version of Honda's Ayrton Senna-blessed, mid-engined supercar. In the silver corner, the R34 iteration of Nissan's hightech, four-wheel-drive grand tourer.
Before this test, Chris Harris, charged with refereeing, admitted he would have plumped for Godzilla, with its hissing overboost and four driven Bridgestones. The NSX's legacy meant little to him, he said, because he'd been raised on Gran Turismo …read more
Source:: Autocar