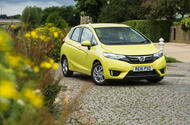 The Jazz accounts for more than 40% of Honda's UK sales, so for the next six months we're throwing everyday life at one to see why
What is it that makes the Honda Jazz such a strong seller in Britain? We've got six months to find out.
We've been willing it for years, but now there are signs that Honda is recovering its mojo.
The brassy Civic Type R hot hatch and intriguing NSX hybrid sports car are two indicators of the firm's resurgence, and if it can now persuade the public that its engineering excellence and clarity of …read more
Source:: Autocar