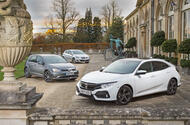 Honda Civic vs Peugeot 308 vs Volkswagen Golf: group test
The new Honda Civic has jettisoned the individualism of its forebears for conventionality, but can it beat the establishment? To find out, we've pit it against the Peugeot 308 and facelifted VW Golf
Soichiro Honda wasn't a man short on glistening pearls of wisdom.
I don't own an anthology of his greatest musings and I've never seen one in print, but don't doubt for a second that at least one of them exists. It was probably written, printed and distributed by Honda itself. In my head, it's illustrated entirely by beautiful studio photographs of The Great Man's many and varied pairs of spectacles, the admiration of which (via a Google Images search) is worth a minute of anyone's time.
One of Soichiro's utterances – a pretty key one – comes with every example of the new Honda Civic: "Pursuing a unique identity is the thing that justifies Honda's existence." It's written on the back of the driver's handbook (which itself is entitled 'How It Works' and is a necessarily thick volume; about which, enough said).
Did the previous Civic come with a handbook thusly emblazoned? Perhaps, but it hardly needed to. The same message was writ large across every panel by the car's quirky styling and it permeated every unconventional feature. But this time around, things are different: Honda is playing it straight.
The new 'global' Civic hatchback, built exclusively at Honda's UK manufacturing facility near Swindon, is at its heart a much more 'normal' five-door hatchback than either of the past two generations. It has been the subject of the biggest global research and development effort in Honda's history, engineered partly in the US and partly in Europe. And yet its fuel tank is now in the usual place (under the back seats); its 'Magic' upwards-folding back seat cushions are gone; and its styling, in spite of the impact of the fake air vents and oversized tail-lights, is relatively unadventurous.
The most interesting thing about the new Civic may be that it's big. At more than 4.5m long, it's almost 30cm longer than a Volkswagen Golf or a Peugeot 308. But, plainly, it's also good: this much we've already been able to tell from a drive in a prototype version late last year, followed by the European press launch in early 2017.
So what sort of threat does the new Honda represent to those classically proportioned European family fivedoor hatchbacks whose success it has sought to emulate now for nine full model generations? Is 'normal' finally to take this bit-part player into the continent's hatchback sales big time? Has mellowing out and growing up at last let the Civic come of age? And how much trademark Honda identity has been left?
PETROL LEADS THE WAY
There is no diesel engine available in the new Civic until later this year. The engine in question will be Honda's commendable 1.6-litre CDTI diesel. If there was ever a time to introduce a volume-selling family hatchback without a diesel engine in the range, of course, it's now.
And so, until the range develops a bit, power for the car can come from either a 127bhp 1.0-litre three-cylinder turbocharged petrol engine or a 180bhp 1.5-litre fourcylinder turbo petrol. The 1.0 turbo offers the more interesting blend of performance, economy, refinement and value for money, at least in principle, to show the Civic in the most appealing light for the bulk of would-be owners – and so it's that one we've chosen to pit against its nearest rivals from VW and Peugeot.
The Golf it faces here is the recently facelifted car fresh into UK showrooms, in mechanically matching, 108bhp 1.0-litre turbo three-cylinder guise. The 308, meanwhile, has 1.2 litres of swept volume to call its own and is tested in the less powerful of two available states of tune, with a peak of 108bhp.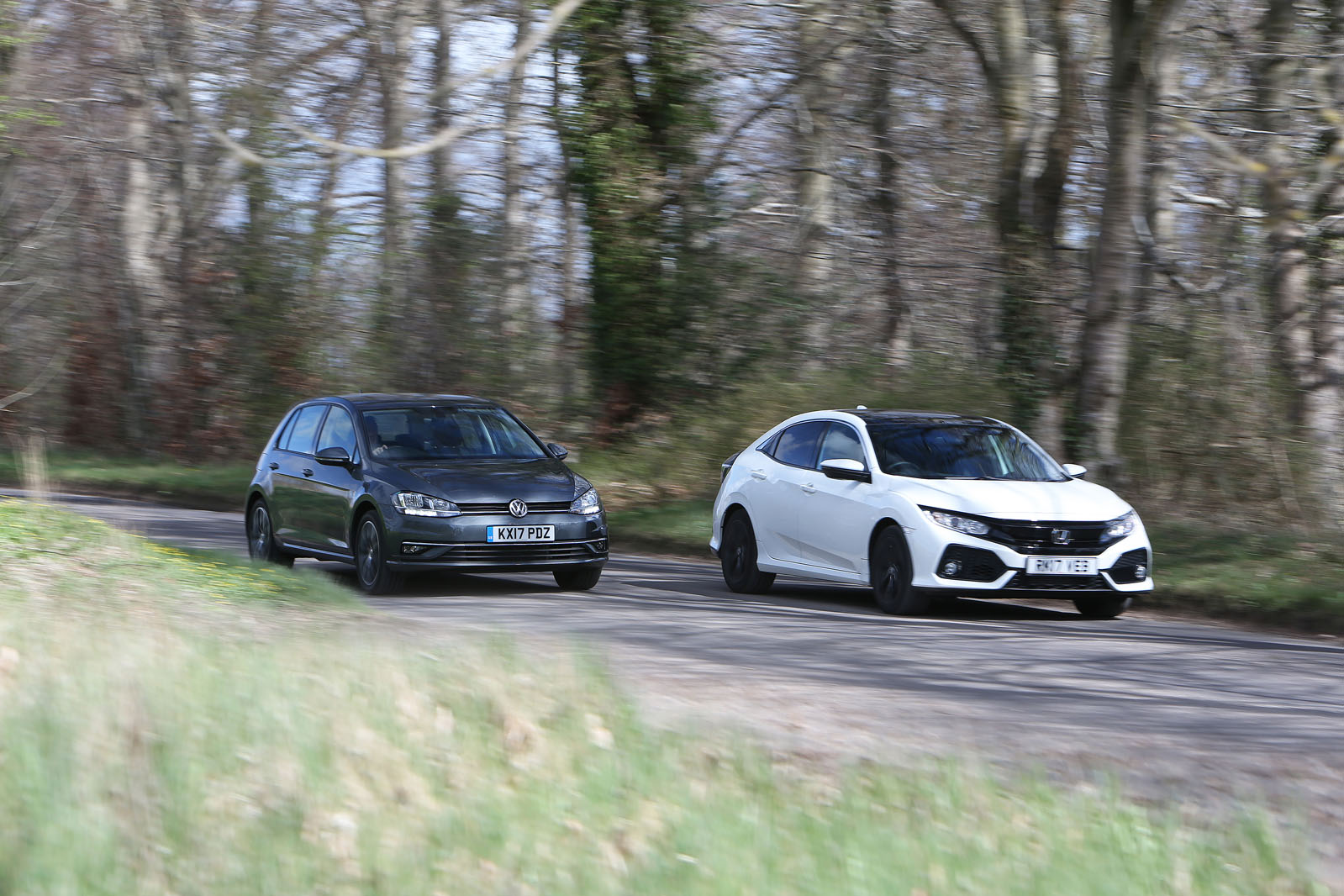 The Honda's engine is all new and puts the Civic in a fairly competitive place on claimed fuel economy and CO2 emissions. It also provides most of the power and 0-62mph accelerative pace of the outgoing Civic's normally aspirated 1.8-litre motor and much greater torque.
And so – wouldn't you know it? – Honda finally embraces engine downsizing and turbocharging at a time when European car makers are just beginning to wonder if sacrificing so much cubic capacity really was such a good idea for real-world fuel economy. Be that as it may. For all the extra size and weight the Civic carries relative to its rivals, it still gets within 0.1sec of the 308 on the 0-62mph sprint and is also within a couple of company car tax brackets of either car.
Another thing we should mention before we get properly stuck in: Honda supplied a quite lavishly equipped car for this exercise, an EX-grade Civic that came with heated leather seats, keyless entry and start, adaptive dampers and a premium audio system. Neither the Golf nor the 308 had quite the same standard equipment level. So when you arrive at the end of this test and discover that the Honda you've been reading about looks a touch pricey, don't worry: a mid-spec SR-grade Civic would have been within a whisker of its rivals on price.
GIVING IT LARGE
The sheer size of the new Civic is striking. We've chosen to compare it with two of the more modestly proportioned hatchbacks on the market here – and it's worth pointing out that a Skoda Octavia is longer still. Even so, this Honda is plainly not short of sensible, route-one, metal-for-the-money appeal.
On the inside, the same impression gradually builds. Never has a more stark contrast been struck by a new car compared with its immediate forebear, I'd bet, than the new Civic with its remarkably low, saloonlike driving position. Hatchbacks normally seat you slightly bentlegged at the controls to make the most of what limited space is contained within their modest wheelbases and thereby provide rear occupants with an acceptable amount of leg room. That's how you sit …read more
Source:: Autocar