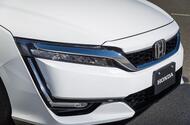 Honda is a leader in hydrogen tech with its new Clarity but is now investing in EVs
Honda looks to fast-track EV development through major partnership with automotive tech company
Honda and Hitachi Automotive Systems (HAS) have established a new joint venture that will develop, manufacture and sell all-electric vehicles.
The two Japanese brands are investing ¥5 billion (about £34 million) into the new company, with HAS taking a controlling stake of 51% ownership to Honda's 49%.
The move is seen as a way for Honda to meet an ambitious, self-set target for two-thirds of its sales to be of electrified models by 2025. The target was announced as Honda formed a new Electric Vehicle Development Division in October 2016.
It also confirmed plans to launch two electric vehicles in 2018, although Autocar is awaiting a response from Honda as to whether these will be produced via its new co-owned brand.
Honda CEO Takahiro Hachigo told Autocar earlier this year that the first model will feature "a high-density, lightweight battery pack, integrated heat management and the evolution of energy transfer functions – both to and from the vehicle», which relate to areas of expertise for HAS.
Hachigo also hinted at improved practicality thanks to "greater freedom in the design of vehicle packaging". The car is expected to make its world debut at the Frankfurt motor show this September.
Honda is a leader in the development of hydrogen-powered cars with its new Clarity (pictured), but it has begun shifting more investment to electric vehicles in the face of fast-growing global demand, spurred on by new emissions legislation in large markets such as China.
Hypercar-baiting next-generation Honda NSX could be fully electric
Source:: Autocar