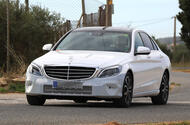 New 2.0-litre diesel engine, in-car technology upgrades and aesthetic tweaks form bulk of changes for BMW 3 Series rival
Mercedes-Benz will launch a heavily upgraded version of its C-Class at the Geneva motor show next year in a bid to keep its best-selling model at the sharp end of the compact executive segment.
The BMW 3 Series rival, which ranks top as Mercedes's highest-produced car around the globe, will go on sale in facelifted form in summer 2018 with a new diesel engine option that's shared with the E-Class. The 2.0-litre four-cylinder unit will replace the incumbent 2.1-litre diesel of the C220d and C250d with more power, improved fuel economy and reduced CO2 emissions.
Like the recently revised S-Class, the C-Class's infotainment upgrades will be the most noticeable. The car will get a new touchpad that looks similar to the one featured on the S-Class, as well as a new steering wheel with more controls on it. There'll also be a redesigned instrument panel and minor tweaks to the design of the dashboard.
Cars spotted testing show the changes due for the C-Class's exterior. New LED headlights, similar to those of the new E-Class, can be seen. There's also a new bumper design with revised air intakes and a more swooping design around the grille. Chrome highlights have been added to the side skirts and rear bumper, too.
Aside from the aforementioned diesel switch, the engine line-up is expected to be unchanged. The turbocharged four-cylinder petrol C200 will remain the entry-level model, with the higher-powered C300 version of the same unit also retained. Hybrid C300h and plug-in hybrid C350e models will also continue to be offered.
At the top of the range, the Mercedes-AMG C43 and C63 models are also due to be updated, although these variants will be revealed and launched in the months that follow the facelifted C-Class's arrival. Expect the turbocharged six and eight-cylinder models to offer more power and improved performance alongside the technology and aesthetic changes. Currently, they're good for up to 362bhp and 469bhp respectively.
The updated C-Class saloon will be joined by a revised Estate sibling to face competition from the likes of the Audi A4, BMW 3 Series and the Jaguar XE. Expect both body variants to command a slight premium over the outgoing C-Class versions. Current starting prices open at £29,035 for the saloon and £30,225 for the estate.
There will also be a similar list of revisions for the C-Class Coupé. The sportier-looking two-door variant, which faces the BMW 4 Series, has been spotted testing with light design changes on multiple occasions.
More content:
2019 Mercedes-AMG C 43 facelift spotted testing
Source:: Autocar