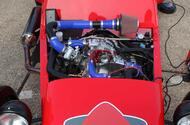 120bhp rotary engine has been developed by Advanced Innovative Engineering
A rotary engine that is said to be more efficient and reliable than regular rotary units has been created by British firm Advanced Innovative Engineering (AIE).
The Lichfield-based company demonstrated its 120bhp engine at the 2016 Low Carbon Vehicle event at Millbrook late last week in a custom-built open-top sports car.
The 650S rotary engine is said to be half the size and half the weight of the equivalent four-cylinder piston engine, and benefits from patented technology including a so-called Self-Pressurising-Air Rotor Cooling System.
This engineering solution is said to address the major drawbacks …read more
Source:: Autocar