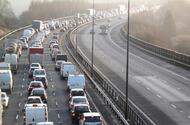 Councils across England will be able to apply for the funds, with schemes expected to be completed by 2018
The Government has invited councils to apply for part of a £2 million fund created to encourage new technology to be used on roads.
Some of the proposals are likely to include technology that allows vehicles to communicate with each other, and roadside sensors to provide drivers with live traffic information.
The Government expects bids from councils to range from £30,000 to £300,000, and around 5% of the cost of the proposal is expected to be covered by the council.
Roads minister, Andrew Jones, said: …read more
Source:: Autocar