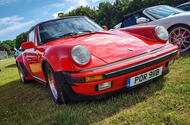 PORSCHE 911 CARRERA 3.2: Targa roof inspired the modern generation of cars
Members of the public who own fast cars can make use of Goodwood's Performance Car parking area; it makes for great viewing before you even get in to the Festival
The Goodwood Festival of Speed is about so much more than the action on Lord March's driveway – and for many fans the first thing to get their pulses racing is a walk through the public car parks.
In recent years Goodwood organisers have intensified that experience by allowing performance car owners to purchase parking in a dedicated area, close to one of the main entrances. For those that can't make it, we've sent our snappers out to get a selection of the best cars out there.
If you'd like to see more from Goodwood, we're covering the whole event live on our Facebook, Twitter and Instagram accounts. Check them out for the latest action, direct from the show.
Read more:
Goodwood Festival of Speed 2017 – best of Thursday
Goodwood Festival of Speed 2017: our highlights
McLaren 570S at Goodwood – from behind the wheel
Jaguar XJR breaks cover – plus video
Flat out in a Lamborghini Centenario on the Goodwood hillclimb
Source:: Autocar