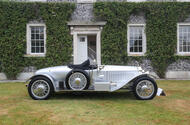 This 1912 Rolls-Royce Silver Ghost London to Edinburgh, known as 'The Silver Dawn', graced the lawn
We marvel at all the metal in one of the finest concours d'elegance in the world, the Cartier Style et Luxe
The Cartier Style et Luxe concours d'elegance is a longstanding fixture at the Goodwood Festival of Speed, having made an appearance on the lawn for over two decades.
This year, categories include 'Maranello's Masterpieces – the fabled Ferrari 250, Trident Tested – the intercontinental Maserati GT and 60 years of the Fiat 500. The stunning Rolls-Royce Silver Ghost also gets a nod, with a class named The Best Car in the World – Rolls-Royce sublime Silver Ghost.
While most of us aren't lucky enough to own these concours cars, we have the next best thing: a picture gallery dedicated to them. Click on the picture above to scroll through some of our favourites.
See more from the Goodwood Festival of Speed:
Gallery: 50 years of AMG
Gallery: The cars of the car park
Gallery: The best of Goodwood so far
Gallery: Celebrating 70 years of Ferrari
Source:: Autocar