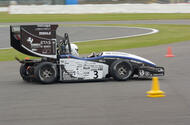 Combustion engined single-seater beat electrified rivals in this year's competition
The University of Stuttgart has won this year's Formula Student event at Silverstone with a combustion-engined single-seater.
The competition has been dominated by electric racers in recent years, but Stuttgart's 2016 result proves petrol power is still a viable option for the win at the Institution of Mechanical Engineers annual event.
Stuttgart's team Rennteam Stuttgart impressed in the endurance challenge and the overall dynamic events. The uni beat fellow German institution Karlsruhe University and Austria's TU Graz to the top step of the podium.
Britian's top ranking uni, Bath, grabbed fourth position, while 2015 …read more
Source:: Autocar