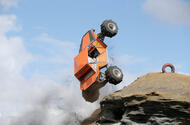 In the gravity-smiting world of Formula Offroad, Snorri Thor Àrnason is Iceland's reigning champion. We join him for the start of the 2016 season
Off-roading is illegal in Iceland. Seriously.
It could cost you £2800 and two years inside, because tyre tracks cut into the country's delicate, lightly grassed volcanic tundra take decades to heal. Unlike, say, the moon or Hollywood Boulevard, no one will hail you for leaving your imprint here.
But, wonderfully, there is an exception, and it's called Formula Offroad.
In this sport, mad machines driven by even madder men battle it out over land and water – yes, over water …read more
Source:: Autocar