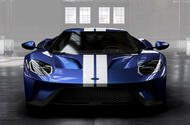 More than 6500 people applied to own one of the first batch of Ford GTs; customers who didn't get one from the first batch can re-apply in 2018
Production for the Ford GT has been extended by two years, meaning customers who didn't get picked for a car the first time round have a second chance to apply.
The first confirmed UK customers for the new GT have already been contacted by email to tell them their request to buy the car has been accepted. But with only 500 cars planned for production, thousands of global applicants were left unsuccessful.
Ford's decision …read more
Source:: Autocar