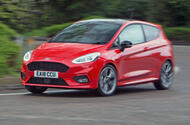 Does this version of Britain's top-selling car have the substance to match its style?
Why we're running it: To determine whether the country's best-selling new car is as worthy of that title as its brilliant predecessor was
Life with a Ford Fiesta ST-Line: Month 1
Welcoming the Fiesta ST-Line to the fleet – 16 May 2018
'Something-Line' models. You know the breed; they're the sheep in wolf's clothing, the converse of a Q-car. They wear the muscle of their most athletic cousins, but behind the spoiler and big wheels are the heart and lungs of the family accountant.
They're everywhere; diesel Golfs dressed like Golf Rs, Corsas impersonating the VXR and C-Classes with dreams of being C63s. Now, there's another and it has just joined the Autocar fleet.
Say hello to our new Ford Fiesta ST-Line, which flexes biceps with metallic alloy wheels (ours are the optional 18in ones), beefier bumpers and an ST front grille, but beneath its bonnet lives a little 1.0-litre Ecoboost triple. Surely, the buying public will turn their back on such a poorly endowed fraudster?
Well, actually, no, they won't. Turns out ST-Line is fast becoming the new Zetec. It is already the most popular trim for the Focus and now it's climbing up the Fiesta's popularity ladder.
ST-Line arrived in November, several months after Zetec and Titanium variants, yet it accounted for 23% of sales in 2017. Titanium was just 2% better than that. Although Zetec, the long-standing trim champion, represented 45% of demand, Ford thinks there's a strong chance that'll change this year.
Given that the Fiesta is the nation's best-selling new model by quite some margin, and this is the first time we'll get an extended test in this latest version, it's fair to assume that we'll be seeing a lot of Fiesta ST-Lines on roads.
So I should make the most of these early weeks, during which our red car is garnering appreciation from pedestrians as they wonder whether they're seeing the new Fiesta ST months before it's due to appear. Hopefully, these bystanders won't feel like their glance is wasted on an ST-Line, because our car does at least come with the most potent version of the 1.0-litre Ecoboost on offer.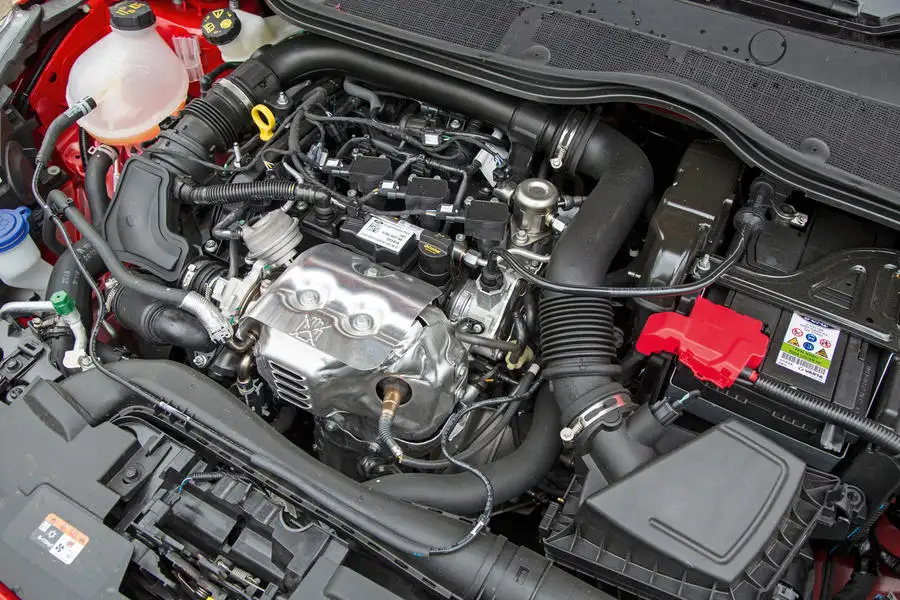 We could have opted for the 99bhp entry model or the 123bhp midfielder, but we've gone for the 138bhp version because it straddles a middle ground between the standard line-up of Fiesta derivatives and the full-blown ST. In 138bhp form, the Fiesta ST-Line's starting price is £17,945 — just £1050 less than the opening figure for its upcoming hot hatch sibling.
Once you've added a few options — and our car is adorned with £1550 worth of extra kit — you've exceeded the price of a full-bore ST. Tempting, but purchase price is only one part of the equation. If you take running costs into account, Ford's turbocharged three-pot 1.0 engine should be much easier on my pocket.
Even in this peppiest form, the 1.0 triple is claimed to offer 62.8mpg (combined) and puff out 102g/km of CO2. So trips to the fuel station should be far less frequent than they would be in the ST, which also uses a three-cylinder but of 1.5-litre capacity and a 197bhp output. Our car should be notably cheaper to insure, too.
Ford has upgraded the ST-Line's chassis so it more deservedly sits between the standard line-up and the top variant than most 'something-Line' models. The underlying structure is 14% stiffer than the old car's, thanks to the use of more bracing in key areas, but the ST-Line adds to this with suspension tuned to offer sportier handling than the standard car, achieved primarily through higher damper rates.
This sounds promising for a B-road jaunt, but there's a chance that it could make the car tiresome on my urban commute across London. There's no system to adjust the damping rates, either. In fact, there's nothing to adjust the way the car is set up at all, unless you count the Eco button that, as far as I can tell, seems only to slacken the throttle's responses.
But I like that there's only the one character for this car. That trait suggests it could be like an old-school warm hatch. Not that it's old-school inside.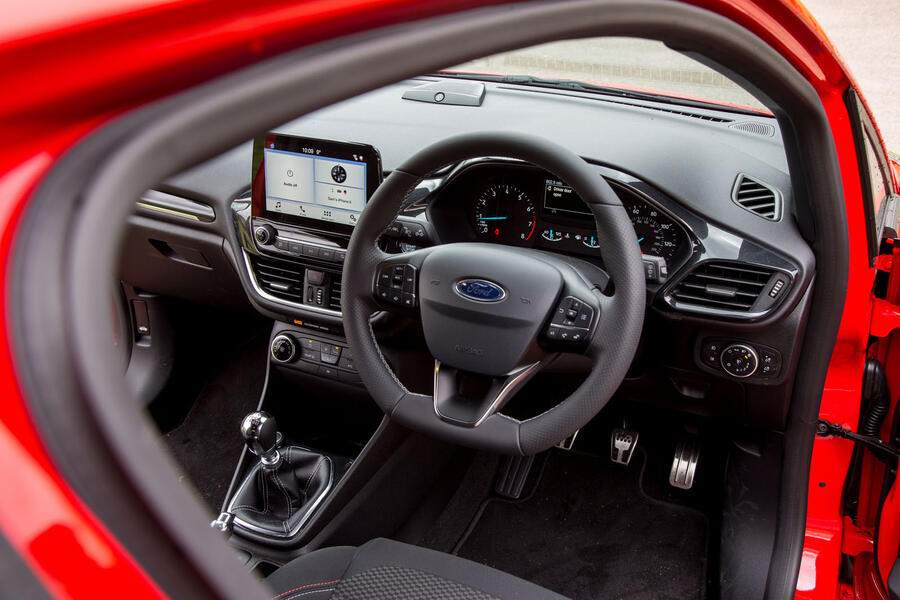 The new Fiesta is a much nicer place in which to sit compared with its predecessor. The previous car's cluttered dashboard is a distant memory and the new version's clean, simple dashboard is, to my eyes at least, a better example of design than the Volkswagen Group's more functional layout.
Our Fiesta ST-Line has the optional B&O Play sound system, which includes 10 speakers and adds an 8.0in touchscreen with Apple CarPlay and Android Auto connectivity. That kit costs £350.
The buttons and knobs on the dashboard feel of good quality, while the soft, squidgy plastic on the dashtop feels so nice that I've already developed an annoying habit of prodding it while stopped in traffic. If you rejoice at the sight of unpopped bubble wrap, you'll understand the satisfaction.
Aside from the hard, scratchy plastic for the interior door pull handles, every surface you lay your hands, feet or bottom on feels premium. Take the steering wheel, which comes with soft perforated leather, or the gearknob, which is spherical with a chrome-finished top. The cloth-covered sports seats are very comfortable and supportive, too.
All in all, this is a car with plenty of potential. Our first drives in the Fiesta ST-Line suggest this could be quite the entry-level driver's car so, rest assured, I'll be venturing out of the Big Smoke and heading to the country to see how hard it is to cock an inside wheel in a car with a few miles on the clock. You can take a three-pot on a track day, too, right?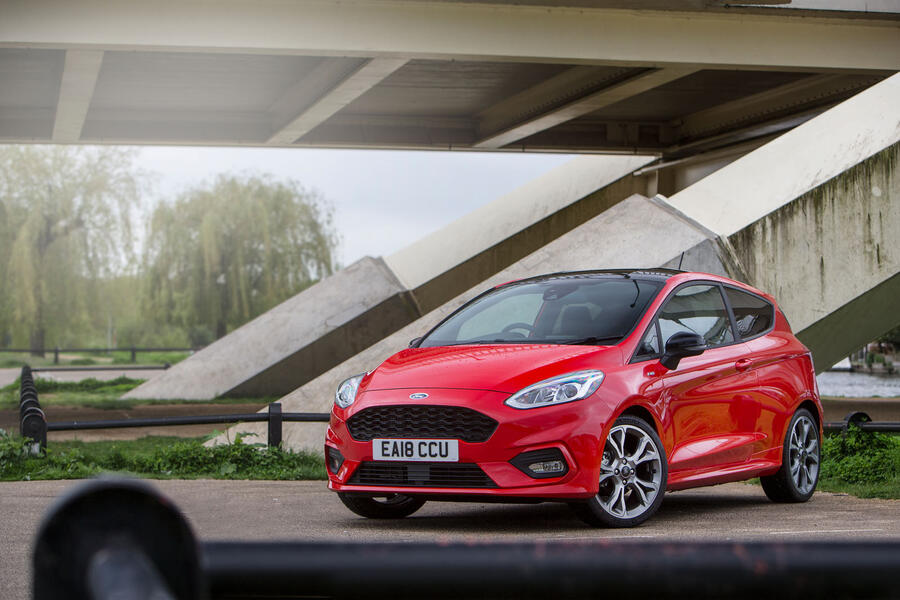 Second Opinion
I loved the ST-Line version of the previous Fiesta. While the engine is much the same, the handling is somehow even …read more
Source:: Autocar