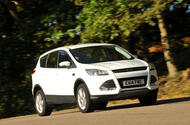 A series of fires in Ford Kugas, one fatal, is expected to trigger a recall on the SUV across the country
The Ford Kuga has been the subject of a series of fires in South Africa, prompting calls for the manufacturer to recall every unit of the model as a precaution.
One man has died as a result of a Kuga fire in South Africa, according to the Sunday Times. The issue is reported to affect Kugas with the 1.6-litre Ecoboost petrol engine. 'At least' 47 fires have been reported in the country.
The recall would check any Kugas to check for the possibility of a fire, and rectify any faulty parts which could be causing the issue.
Ford of South Africa has issued the following statement: «While we continue to investigate the Kuga 1.6-litre engine compartment fires, based on the current data we have determined that the fires are due to engine overheating caused by a lack of coolant circulation which can lead to cracking in the cylinder head and, therefore, an oil leak. If the leaking oil reaches a hot engine surface, it can potentially catch fire.
We have started a voluntary safety recall for the affected vehicles to address the engine overheating condition (4,556 vehicles affected). This voluntary safety recall will be completed in two steps: an enhanced dealer safety action, followed by an additional parts repair action. Customers with affected vehicles should take their Kugas to their Ford dealer who will check the coolant system condition and integrity. We are working to expedite parts as quickly as possible.»
No official recall has been issued by Ford of South Africa, but it has requested that owners urgently contact their nearest dealer for a free one-hour check.
No reports have surfaced of fires in Kugas in the UK, but a Ford UK spokesman said: «There is nothing of concern for UK Kuga 1.6-litre Ecoboost drivers, but they can always seek clarification from their dealer or our central customer team on 0203 564 4444, or ukcrc1@ford.com.»
Source:: Autocar