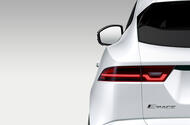 Jaguar has released the first official pic of the new E-Pace
New small SUV is tipped to become Jaguar's best-seller, upstaging even the F-Pace
Jaguar will kickstart its biggest assault on the global car market yet when it reveals the hotly anticipated E-Pace, its second SUV, on 13 July.
The E-Pace is arriving at a time when Jaguar is enjoying a significant upswing in sales. In April the company reported an 83% increase in global sales for the year 2016/17, with the introduction of the F-Pace providing a huge boost. The smaller E-Pace, which will go head to head with the BMW X1 and Audi Q3, is expected to surpass its sibling's success.
The size of the market is considerable: year-on-year sales of the X1 increased by 47% in the first five months of this year, with 113,367 examples being sold. During 2016, Audi produced more than 230,000 examples of the Q3.
The E-Pace, which is set to be priced at less than £30,000, sits on the same LR-MS steel platform as the Land Rover Discovery Sport and Range Rover Evoque. As such, it'll be offered with either front or four-wheel drive and a choice of either a six-speed manual or eight-speed auto gearbox.
Power comes from 2.0-litre four-cylinder petrol and diesel Ingenium engines, including 161bhp and 178bhp diesels.
Higher up the range will be a 237bhp 2.0-litre diesel and a 247bhp 2.0-litre petrol. The E-Pace could also be the first model to receive Jaguar's new hybrid powertrain. It would most likely be based on a mild hybrid system that would be shared with the Evoque and Discovery Sport. The 'MHEV' system will combine a battery-powered electric drive motor and a three-cylinder 1.5-litre Ingenium diesel engine.
Jaguar promises the E-Pace will be imbued with the company's trademark handling traits, suggesting it'll follow the lead of the F-Pace and be positioned as the driver's choice in its market segment.
Jaguar's director of design, Ian Callum, said: "The combination of sports car looks with Jaguar performance will ensure that the E-Pace stands out. Every Jaguar is designed to excite the senses, and we think E-Pace will do just that."
Read more:
Jaguar Land Rover achieves record sales and revenue in 2016
Jaguar Land Rover to recruit 5000 this year for tech push
Jaguar I-Pace: first drive of electric SUV concept
Source:: Autocar