Classic Mini Electric
Old meets new for a one-off electric version of a classic, created to whet appetites for the upcoming 2019 Electric Mini
From a distance, there's nothing to suggest Moritz Burmester's Mini is anything other than a well-preserved classic.
The Solar Red Cooper's flared arches, two-tone livery and 13in wheels? Part of the factory-fitted Sports Pack. It's the electric plug decals adorning the alloys and body panels that give a hint at the one-off nature of this project.
In case you haven't seen a Countryman Cooper S E lately, or didn't see the fleet of experimental Mini Es back in 2008, the logos let you know this Mini sips electricity, not petrol. The original motor has been stripped out and replaced with a 38bhp electric powertrain.
Burmester's old-meets-new project was built in just six days and revealed at this year's New York motor show as a reminder of Mini's past, but also looking forward to its future – one where, a year from now, the company will release its first battery-powered production model.
The aim of the build was to keep as close to the standard car as possible, so while the engine has been replaced, and the exhaust and petrol tank stripped, it still weighs around 770kg – the same as an original 1998 Cooper.
With the near-instant power delivery of an electric motor, that makes it even more of a go-kart to drive than ever.
How does the Classic Mini Electric drive?
Replacing the donor car's 1.3-litre four-pot with an electric motor might sound like sacrilege to Mini purists, but it stays true to the marque's heritage. The motor only powers the front wheels, just like it should, while the unforgivingly firm suspension and unassisted steering remain unchanged.
The four-speed transmission stays in place, too, which is unusual for an EV. According to Burmester, an automatic conversion wouldn't be possible without custom-building parts, because there's no off-the-shelf differential small enough to fit the car.
The transmission is connected to the motor with a toothed belt and retains all the gears of the standard car, and whines fiercely when you squeeze the throttle.
The gearshift is as vague as it ever was, but you don't need to use the clutch – just lift off the throttle and shift. Regenerative brakes mean you can't downshift until you lift off the middle pedal, too.
According to Burmester, the motor is currently operating at 20kW and has had barely 24 hours of use to date, but with testing could be boosted to 40kW for greater performance – if the transmission can take it.
As is, there's already enough torque to pull away in any gear, and we were advised to avoid first altogether. It's not instantly responsive like a typical electric car, but is every bit as fun as a petrol-powered Mini.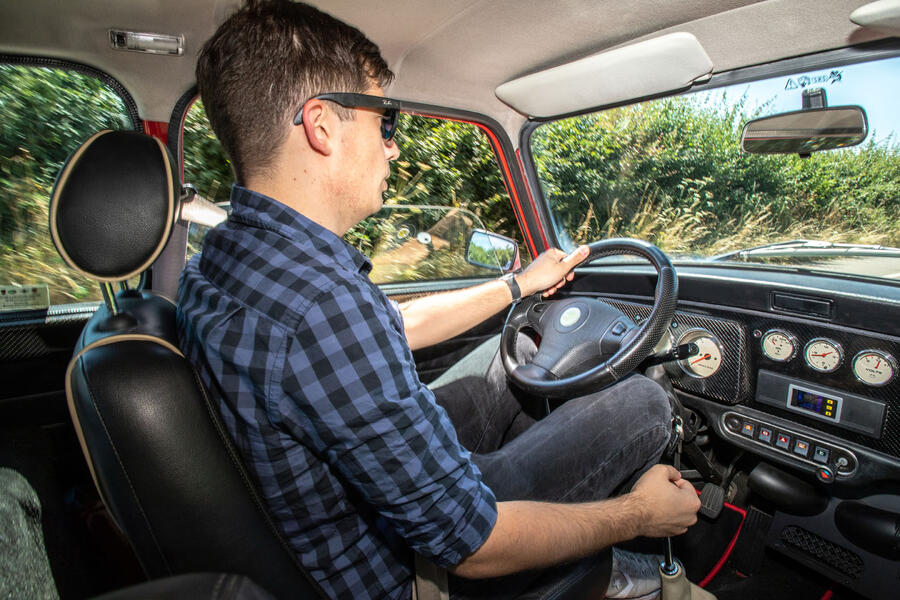 With no power steering, turning at slow speeds is unsurprisingly heavy. On the move, though, it darts wherever you point it with brilliant accuracy and plenty of feedback. With unchanged suspension the ride is punishingly hard at times, too.
Hearing the whine of the electric powertrain is an odd sensation from inside the cabin, because aside from a small LCD screen to show remaining battery charge, there's little here to suggest this is anything other than a classic Mini.
The steering wheel still sits at an angle best described as 'school bus', and the interior trim and low-slung seats are stock. It's only when you turn around that you spot the oversized box occupying the rear bench.
That's where all the batteries sit – 30 of the things, which are good for about 65 miles of range and take about four hours to charge from a 220V household outlet. They're heavy, but because they take the place of the fuel tank, weight distribution remains the same and the car stays as nimble as it was pre-conversion.
Could a DIY mechanic do something similar? Mini isn't putting a price on the project, but the creator himself thinks an off-the-shelf kit could be affordable in the next five years. «Plenty of classics don't have parts, so you either spend a fortune to keep a car running or it dies. An electric drive conversion could keep these cars on the roads,» says Burmester.
Does the Classic Mini Electric live up to its hype?
It's far from flawless, but that doesn't stop this electrified Mini from being great fun to drive. It honors the old car's heritage and accepts its limitations, rather than try to fix them, and is all the better for it.
It doesn't matter if you're a fan of this modern spin on a classic or not – the one-off was commissioned to get people talking about EVs, not fill order books.
If it has piqued your interest in an electric Mini, Burmester has done his job. And just in time – the 2019 Mini Electric will be revealed later in the year.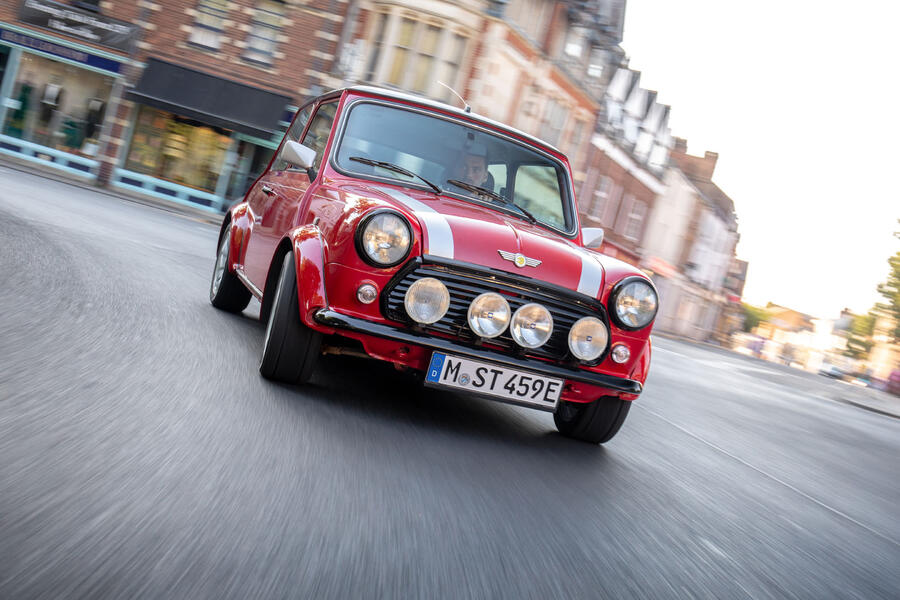 READ MORE
Classic Mini Electric revealed to emphasise brand's EV plans
Classic Mini Electric: First drive of one-off EV
Mini Electric: first pictures of 'pivotal' zero-emission 2019 model
Source:: Autocar