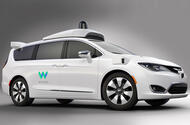 FCA supplies Google's Waymo car brand with 100 Chrysler Pacifica Hybrid MPVs to test autonomous technology; the new cars will more than double Google's existing test fleet
Fiat Chrysler Automobiles (FCA) has supplied Google's Waymo car brand with 100 new Chrysler Pacifica Hybrid MPVs that have been specially adapted for autonomous car technology.
The Pacifica models more than double Waymo's test fleet and have been purpose-built to incorporate the firm's existing autonomous hardware with a unique computer, sensors and telematics. They'll be used for testing and development of autonomous software and hardware from the start of 2017.
"The Pacifica Hybrid will …read more
Source:: Autocar