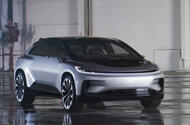 Electric vehicle company Faraday Future is facing legal action for not paying for its recent virtual reality launch at CES 2017
Faraday Future is mired in a legal dispute for allegedly not paying for its FF91 electric car's virtual presentation as part of the launch at the recent Consumer Electric Show in the USA.
A lawsuit for $1.8 million has been lodged by The Mill Group, which claims Faraday has not settled the bill for a 'graphic representation with virtual reality, augmented reality and holographic components'.
The supplier says Faraday has paid $20,000 for the work but nothing more.
Faraday claimed in a tweet that the supplier «failed to comply with contractual requirements». In a further statement, Faraday added: «The Mill alleges it is entitled to full payment for work that it performed. Faraday Future denies this contention and looks forward to the opportunity to present the facts supporting its position through the legal process.»
This is not the first legal wrangle Faraday has found itself in recently. In December 2016, just ahead of the launch of the FF91, lawsuits totalling more than $10 million were filed against the company.
The largest of these claims is from Futuris, a seat-making company that claims Faraday owes it $10 million in unpaid bills.
Work on Faraday's new $1.3 billion factory in Nevada was halted in November 2016 as construction company Aecom said the car maker was $21 million behind on payments.
The legal problems have arisen despite Faraday claiming it has more than 65,000 pre-orders for the FF91. The electric car claims to have more than 1000bhp and can accelerate from 0-60mph in 2.39 seconds, yet has a battery range of 435 miles.
Alisdair Suttie
Source:: Autocar