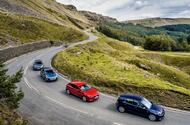 Given that we've already ruled out so many decent market contenders, there's no room for anything but very good cars in this final showdown
Can the Ford Focus reclaim its stranglehold on the family hatchback market? We pit the fourth-gen one against eight rivals eager to thwart it
It has been a decade since the Ford Focus last claimed the title of Britain's best-selling car – and the new fourth-generation model has every chance of repeating the accolade.
To see what it has to compete with, we've assembled quite the welcoming committe for the new arrival: eight hatchbacks from well-known volume brands we believe could give it some serious competition. Our task: to discover which is 2018's best new family hatch, when gathered around a common £22,000 price point, and propelled by similarly powerful petrol engines.
Yesterday we narrowed the field from nine to four, seeing the Peugeot 308, Vauxhall Astra, Seat Leon, Kia Ceed, Honda Civic all fail to make the final face-off.
On to the sharp end of this exercise, then – to be contended by a couple of cars whose progression to this stage regular readers will have probably seen coming several miles off, but also a couple of cars whose presence might just surprise you.
Another surprise, at least as far as this tester is concerned, is that the Kia Ceed isn't among them. When we road-tested the Kia just a few weeks ago, it felt like a car that had taken several big steps up and might hold its own in competition with the hatchback segment's elite. But group-testing new cars will always confound you and challenge your preconceptions. And when it came to the crunch, the best of this bunch were just too good for the Kia – and not just for the Kia, it should be noted.
If you're expecting this to descend into a couple of discrete twin tests rolled into one, don't be so sure: the new Ford Focus, Mazda 3, Volkswagen Golf and Skoda Octavia aren't so easily separated. Theseare cars which, over a day's driving, gradually assemble an ownership case that's quite different from each of the other's, and one strong enough that it could easily make it the right buy for any Autocar reader.
Given that we've already ruled out so many decent market contenders, there's no room for anything but very good cars in this final showdown.
It would be broadly true, however, to observe that what we've got here, among a quartet of leading lights, is a sensible, practical, straight forward Skoda; a desirable, rounded, finely polished Volkswagen; a handsome, alternative, agile Mazda and, of course, the latest version of the best-handling family hatchback that Europe has ever known.
Three of the four cars will be well-known to you – and I won't pretend otherwise simply to build some phone sense of suspense that might keep you more interested, for the next thousand-and-a-bit words, than you would otherwise be. The questions we should turn our attention towards now, it seems to me, are as follows. First, does the new Focus still offer the most driver appeal in its class even on its most ordinary suspension configuration?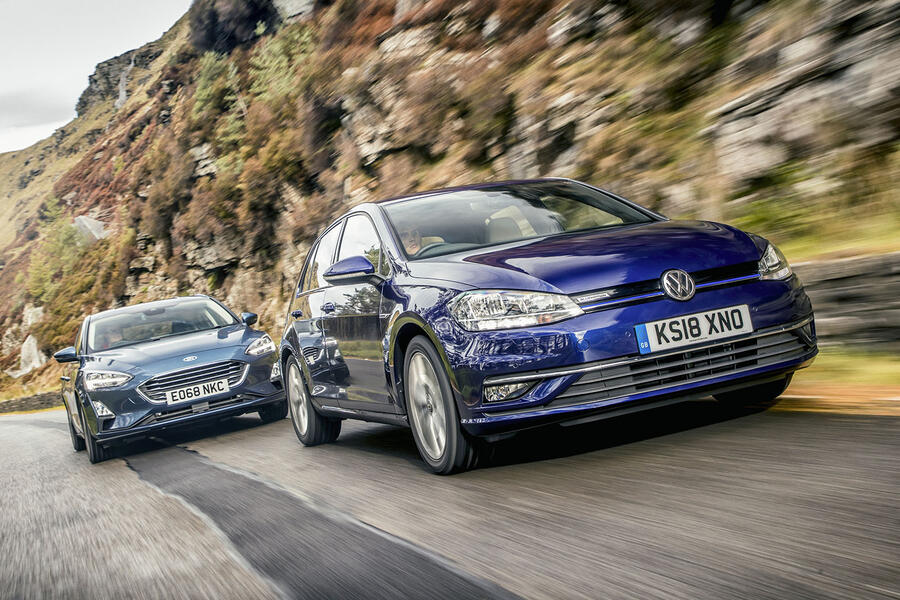 The answer to that is not to be taken for granted, with our Titanium X-trim test car not only doing without the lowered sport-tuned suspension of ST-Line versions, but also without the independent rear suspension and adaptive dampers that more expensive Focuses now have. And second, is it good enough in every other way that matters to seal the deal: to succeed where in last-generation from it failed, and supplant Europe's bigger-selling VW Golf at the top of our class rankings as an all-round package?
First things first, then. We could tie ourselves in knots discussing how much driver appeal actually matters in a humble, workaday family five-door. But whether you take the view that I like to think is typical of an Autocar reader (that it matters quite a lot) or you don't, you would have to admit that it matters in a Ford Focus. Would this car have been so popular with a more ordinary driving experience? We'll never know, but Ford clearly doesn't think so – hence the money spent on every subsequent generation to guarantee the preservation of its key selling point – and I don't think so either.
A succession of back-to-back ten-minute stints in each of our four cars is all you need to find out which of the Focus's rivals is most likely to challenge it in this respect. And, while it has masses of rational appeal and enough completeness as a product to conclusively dump the Honda Civic firmly out of this top-four contest, the Skoda Octavia isn't much of a challenger on dynamism. Even with more power and torque than anything else in this showdown, it feels and drives like 'Captain Sensible' from bumper to bumper – now as much as it ever did.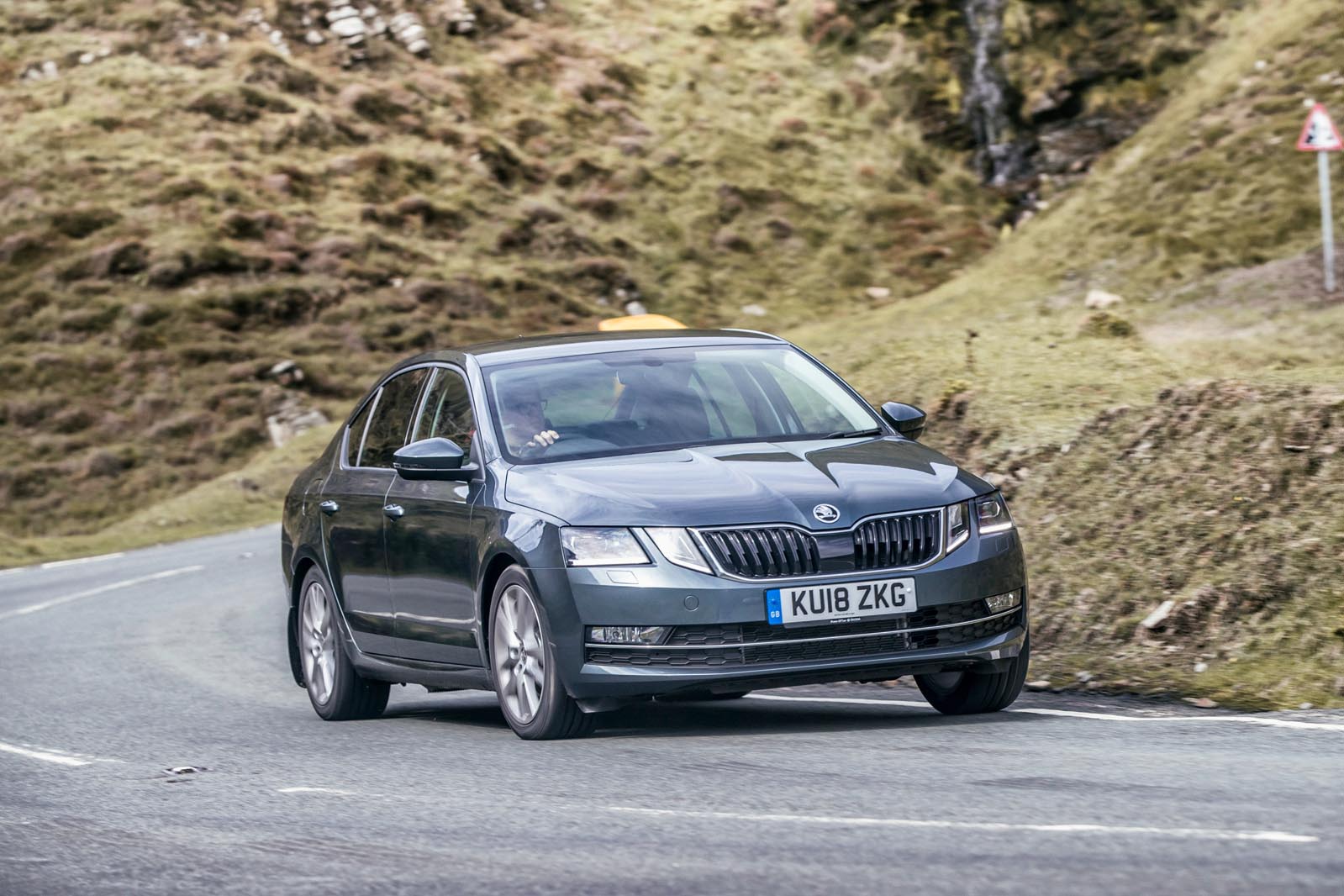 The softness of the Octavia's handling responses is what you expect to naturally follow, with a turn of that medium-weighted and moderately paced steering wheel, having noted the fairly gentle lope of the car's quiet and well-isolated ride. It makes sense: this is a family saloon masquerading as a hatchback, really. It reminds you of that suspiciously grown-up kid you remember in your class at school, whose 21st birthday party you later went to a year before everyone else's.
The car handles precisely enough as to be entirely easy to place, and has the body control to tolerate a brisker pace over a challenging road without really struggling. It's refined too – more so than any other car in this top four – so it's featuring at the business end of this test for very good reasons. But if a dose of added poise and verve in your everyday motoring is what you're after, it doesn't offer much.
VW's 1.5-litre, 128bhp Golf offers more – mostly …read more
Source:: Autocar