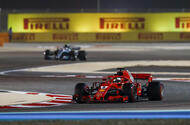 Bahrain GP reflections: how Ferrari made tyre gamble pay
Sebastian Vettel celebrated his 200th Formula 1 race in style, nursing a pair of soft tyres on a bold one-stop strategy to claim a narrow victory in the Bahrain Grand Prix.
The Ferrari driver had started from pole and led the early portion of the race, but stopped for tyres before his closest rival, Mercedes driver Valtteri Bottas. The Finn showed strong pace on harder compound tyres after his planned sole stop and, in response, Ferrari opted not to pit Vettel again.
Bottas reeled in Vettel as the German's tyres began to fade but was unable to close in quite enough, allowing Vettel to claim his second win of the season to build his points lead.
"I came on the radio with 10 laps to go and said: 'I have everything under control,'" said Vettel, after the win. "That was a lie. When they told me the pace of Valtteri at that time, there was no way I thought I could do that.
"I tried to make the tyres last, nurse them as much as I can, and it worked. But just."
It was arguably the second race in a row that Mercedes could – perhaps should – have won, had Bottas been able to close slightly faster.
Here's what else we learned from the Bahrain Grand Prix:
Ferrari mechanic injured
Ferrari's race didn't entirely go to plan. Francesco Cigarini, one of its pit crew, suffered a broken leg after being struck by Kimi Räikkönen's car when the Finn was mistakenly told to leave his pit box early.
Cigarini underwent surgery on Sunday evening. He posted on Instagram that the operation went well.
Räikkönen was forced to retire due to the incident and Ferrari was fined for an unsafe release penalty.
Hamilton limits the damage
Reigning champion Lewis Hamilton lined up ninth on the grid after a five-place penalty for a gearbox change and had to fight through the pack to bag the final podium spot.
The Brit survived a clash with Red Bull's Max Verstappen (more on that in a bit) but the highlight was a stunning triple overtake, when he overtook McLaren's Fernando Alonso, Force India's Esteban Ocon and Renault's Nico Hülkenberg in one corner.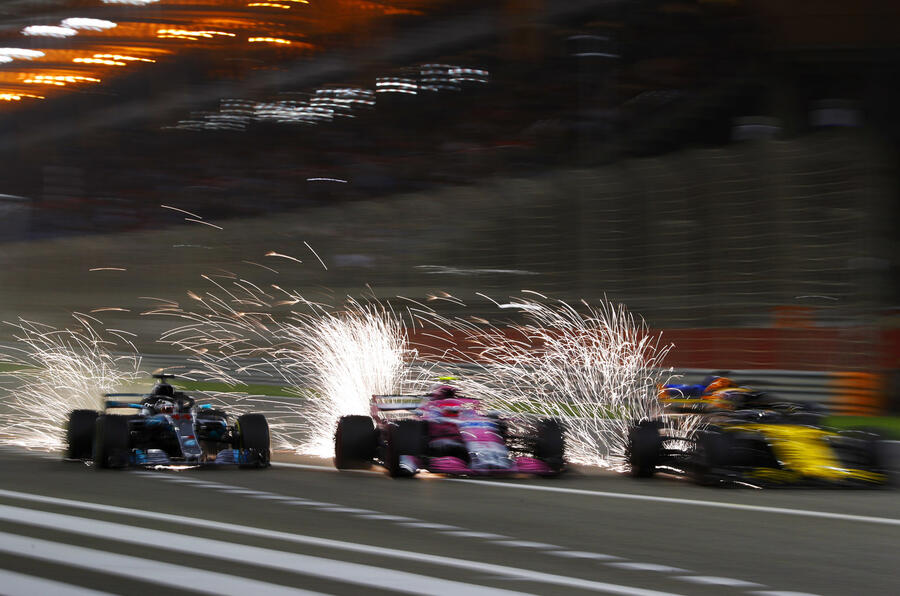 "There were some frustrating points during the race when the team couldn't hear me [on the radio], so communication was really difficult," Hamilton said.
Notably, this was his 27th points finish in a row, tying him for the all-time record with Räikkönen.
Vettel heads off Lewis criticism
Verstappen started well down the order after an off in qualifying, but his comeback charge ended due to a puncture following a first-turn clash with Hamilton.
That sparked further commentary after the cameras seemingly picked up Hamilton calling Verstappen a rude word shortly before the podium. The Brit was asked about his comment in the press conference, but Vettel interjected to defend his rival.
"I don't think it's justified to give us these kind of sh*t questions and make a story up out of nothing," he said. "If we are just racing and we are full of adrenaline, sometimes we say these things. It's a human reaction."
So there.
For his part, Hamilton added: "It was an unnecessary collision. There needs to be a certain respect between drivers. It didn't feel like a respectful manoeuvre."
Verstappen's retirement came shortly before teammate Daniel Ricciardo was sidelined with a differential problem, ending a disastrous race for the team.
Max Verstappen: meeting F1's most exciting young talent
Toro Rosso's joy
The new combination of Toro Rosso and Honda delivered in style in Bahrain, with Pierre Gasly qualifying a strong fifth and then charging to a brilliant fourth place in just his seventh F1 race.
The result was Honda's best since returning to F1 as an engine supplier in 2015; its best result during three disastrous years with McLaren was fifth place.
"The car was fantastic from the beginning of the weekend, and in the race I could just push flat out and the pace was great," said Gasly, adding: "I need a bit of time to let this sink in."
Vettel joins the 200 club
The Bahrain GP was Vettel's 200th F1 start; he started from his 51st pole position and ended with his 49th victory. Notably, Vettel finished on the podium in 101 of his 200 races.
Perhaps more importantly for Vettel, he now leads Hamilton in the title race by 17 points.
Next round: Chinese Grand Prix, Shanghai International Circuit, 15 April
Read more
Australian Grand Prix reflections: how Vettel snatched victory
Max Verstappen: meeting F1's most exciting young talent
Source:: Autocar