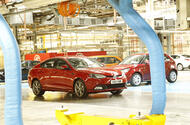 MG has decided to halt production at Longbridge after 116 years of near-continuous car production, but why?
The news this morning from the Chinese-owned MG brand that car production at Longbridge was finally over came some 110 years after the first car emerged from Herbert Austin's converted printworks.
Truth is, Longbridge's underused production lines haven't only just fallen silent. That probably happened some months ago, when Chinese owners SAIC pulled the MG 6 from sale.
about the latest Longbridge news here
The best estimate is that MG didn't manage to make even the modest 3000 a year of the big …read more
Source:: Autocar