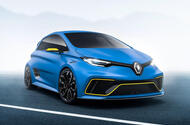 Cost of running a mid-sized electric car and combustion-engined equivalent will also be the same by 2020, experts predict
Renault has rebutted a report that prices of electric and combustion-engined cars will converge by 2020 – just three years away.
The French company says its boss of electric vehicles, Gilles Normand, was misquoted and was referring to the total cost of ownership over five years, not the initial purchase price.
«We forecast that the costs of total ownership and running costs of a B-segment car will equalise by 2020,» a spokesperson told Autocar.
Five years later, in 2025, the total ownership costs for a C-segment EV will match those of a similar-sized combustion-engined car, Renault says.
Total cost of ownership, also known as 'TCOE', is the fleet and leasing industry yardstick term for residual values, service, maintenance and repair, insurance, fuel economy and purchase price combined.
Autocar understands that an important development will be the lower cost of batteries as production volumes increase, which will reduce the monthly leasing costs to owners.
However, the convergence will also be hastened by the increasing cost of combustion engines as after-exhaust treatments to cope with more stringent emissions regulations push up manufacturing costs.
Normand was originally speaking at an FT 'Future of the Car' Summit when he spoke in a panel discussion.
At the event, he talked about lower battery costs. «There's a huge amount being invested by OEMs and Tier One suppliers in battery technology,» he said. «That will help sales, because batteries become more affordable.»
Read more:
Renault confirms low-cost electric vehicle
Source:: Autocar