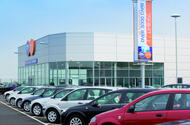 Despite global economic uncertainty and the Brexit vote, sales in Europe this year have grown by 6.8% compared with 2015
New car sales in Europe have increased by 6.8% in the year to date compared to the same period in 2015, despite growing global economic uncertainty and concerns that the Brexit vote could impact consumer confidence.
Research compiled by London automotive industry analyst JATO Dynamics shows that Europeans bought a total of 13,937,339 cars in 2016 so far, with 1,184,140 of those sales taking place last month. November's figure represented a growth of 5% compared to the same month in 2015.
The …read more
Source:: Autocar