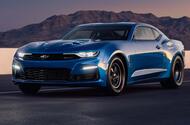 The eCOPO concept is based on the 2019 Camaro
eCOPO concept features an 800V battery that generates 700bhp and 600lb ft of torque
Chevrolet has unveiled a fully electric Camaro drag racer concept car at the SEMA trade show in Las Vegas, US.
Called the eCOPO Camaro, it has been developed in-house by General Motors (GM) in conjunction with US-based drag team Hancock and Lane Racing.
The COPO name, standing for Central Office Production Order, comes from a special order-only Camaro of 1969 and was reintroduced in 2012.
The eCOPO is powered by GM's first 800V battery pack, allowing for more efficient power transfer to the electric motor, which comprises two BorgWarner assemblies generating 700bhp and 600lb ft of torque.
With the new performance-focused battery technology in the eCOPO producing twice the voltage of its production Bolt and Volt EVs, Chevrolet hopes to achieve a quarter-mile time of less than 9.0sec.
The addition of the battery packs has necessitated extensive modifications to the Camaro's standard drag racing safety equipment. As well as extending the car's internal roll cage and sealing the battery packs off from the interior, Chevrolet has installed a battery management system producing live output and temperature readings.
Chevrolet states that the car's electric motor is mated directly to standard GM parts. The eCOPO's automatic gearbox and solid rear axle are unchanged from those used in the regular Camaro.
GM's director of performance, parts and motorsport, Russ O'Blenes, states that this "points to a future that could include electric crate motors for racing".
GM has given no indication of how far away electric crate motors may be, nor whether they could replace the company's existing parts offerings in the future.
Read more
Source:: Autocar