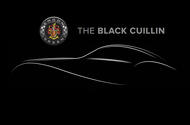 Eadon Green's retro-styled Black Cuillin coupé will be revealed at the Geneva motor show in March
The Eadon Green Black Cuillin will be revealed at the Geneva motor show in March, as a rival to Morgan.
about the cars heading to this year's Geneva show
Eadon Green has only revealed a line-drawing preview image of the Black Cuillin coupé, which takes retro styling of a similar era to Morgan's offerings. The image doesn't show enough to determine whether it's more like Morgan's traditional Plus models, or a modern iteration similar to the Aero cars.
The Black Cuillan, named after a mountain range on the Isle of Skye off the Scottish coast, will be revealed at the show, although Eadon Green promises more details in the weeks leading up to the show.
The company, which plays on the name of the company's managing director and founder, Felix Eaton, is based in Shoreditch, London, and was set up in late 2016.
Eadon Green's badge comprises a coat of arms with the word 'integrity' underneath, surrounded by a grey ring containing the company's name and race flags, suggesting that despite the model's retro styling, performance will be a focus.
Source:: Autocar