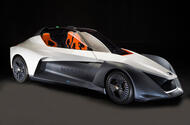 Innovative electric sports car has now been engineered as a fully working prototype with the help of Williams Advanced Engineering
The radical Nissan BladeGlider electric sports car concept has been developed into a "fully-functional advanced prototype" with clear production intent.
The BladeGlider had been shunted near to the back of Nissan's priority list early last year by then incoming product planning chief Philippe Klein.
But now the concept has re-emerged as a fully working prototype developed in collaboration with Williams Advanced Engineering, as Nissan seeks to maintain its reputation as an industry leader for spearheading new niches and electric propulsion.
The …read more
Source:: Autocar