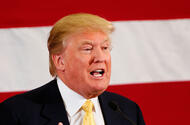 Trump's views on Mexican-built cars has divided car makers' responses between compliant and defiant – see how each has reacted here
Ahead of his inauguration on Friday, US president-elect Donald Trump has taken on the Mexican car industry, saying that cars built in Mexico and imported into the US will face a 35% import tax.
Mexico has experienced a considerable boom in its car industry in recent years, as manufacturers look to take advantage of cheaper labour and ease of trade access into the US, which, according to some – including Trump – is to the detriment of American car-building jobs. The decline of the city of Detroit is a prime example of this.
Manufacturers have responded in a variety of ways, and as Trump carves his way into American history, the car industry looks for the moment to be his biggest target.
Trump v Hyundai
Trump's vow to introduce a 35% import tax came shortly before Hyundai raised its investment in the US from just over $2 billion, to $3.1bn (£2.5bn) over the next five years, says Reuters.
Currently, Hyundai builds more than half of its US model range domestically, and has facilities in Alabama, Michigan and California.
Statement from Hyundai to come.
Trump v BMW
BMW has been more troublesome for Trump; the president-elect took on the car maker directly, criticising the Munich-based brand for its current Mexico plant and plan to expand its manufacturing operations there.
A German news site reported that Germany's deputy chancellor advised the US to "build better cars," when asked how the US could ensure more American cars are bought in Germany.
BMW said: "The BMW Group is very much at home in the USA. We have a deep level of localisation and employ both directly and indirectly almost 70,000 people in the US. Our US production last year hit 411,171 X [SUV] models. This makes the plant Spartanburg in South Carolina the BMW Group's largest factory worldwide.»
«The BMW Group plant in San Luis Potosí will build the BMW 3 Series Sedan starting from 2019 on. The production is planned for the world market. As such, the plant in Mexico will be an addition to existing 3 Series production facilities in Germany and China."
Trump v Mercedes-Benz
Mercedes-Benz's future plans to share assembly in Mexico with Renault-Nissan caught Trump's attention; Mercedes was lumped in with Trump's criticism of German brands, as well as Germany on the whole.
Mercedes hasn't backed down on the plans, as Germany's deputy chancellor appears to be defending the German car industry – and immigration policy – overall.
Statement from Mercedes-Benz to come.
Trump versus General Motors
General Motors (GM), recent recipients of criticism from Trump for its four Mexican production plants, will now reveal $1bn investment in the US. The investment is not in reaction to Trump's comments but has been planned for some time, says Reuters.
GM's US production facilities currently outnumber its Mexican factories 11-4.
GM CEO Mary Barra said: "The US is our home market and we are committed to growth that is good for our employees, dealers, and suppliers and supports our continued effort to drive shareholder value."
GM said: "In addition, GM is confirming that another supplier has committed to make components for GM's next-generation full size pick-up trucks in Michigan, moving 100 supplier jobs from Mexico to the US."
Trump v Toyota
Trump tweeted threateningly at Toyota recently, brandishing his 35% import tax at the car maker for its Mexican operations: "Toyota Motor said will build a new plant in Baja, Mexico, to build Corolla cars for US. NO WAY! Build plant in US or pay big border tax."
Critics were quick to point out that Toyota's new plant would be in Guanajuato, and that US employment would be unaffected, according to reports.
Toyota said: "Toyota has been part of the cultural fabric in the US for nearly 60 years. Production volume or employment in the US will not decrease as a result of our new plant in Guanajuato, Mexico announced in April 2015. Toyota looks forward to collaborating with the Trump Administration to serve in the best interests of consumers and the automotive industry."
Trump v Ford
Ford is one of the only manufacturers playing ball with Trump's tax plans, having cancelled a $1.7bn Mexican factory, instead driving $700 million into a Michigan-based plant.
CEO Mark Fields announced the change of plan at the same event as his announcement of the brand's renewed electrified vehicle (EV) push, adding that all of the electrified models would be built there.
Ford said: "This was a business decision we made independently, looking at all the factors, including a more positive US manufacturing business environment expected under president-elect Trump. We did not discuss this decision with the president-elect until this morning."
Source:: Autocar