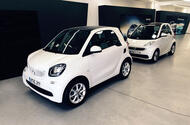 Honda Civic Type R is my personal Handling Day favourite; swapping old Smart ForTwo for new; Driving license change is pleasantly uncomplicated
MONDAY – Exciting visit to Bedford Autodrome for the first of our two annual handling days, the one for cars you can just about afford.
Star attraction was the new Mazda MX-5, whose ancestors have sometimes walked this competition, but you'll have to wait a short while to discover how it fared this time. I'm not risking strife with the bloke in charge of it all, Matt Saunders, by blowing the gaff.
My own favourite was the new Honda …read more
Source:: Autocar