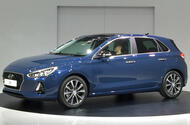 A cheeky nod to Volkswagen's famous slogan has us wondering about the two brands' respective futures, and market positions
Hyundai's slogan for the new i30 is 'the people's car'.
Cheeky, yes, but also a fine piece of opportunism from the ambitious Korean brand.
As VW's name has quite rightly been dragged through the mud this past year, Hyundai has sensed an opportunity to promote itself as the kind of clean, wholesome, classless brand, and to borrow a couple of slogans VW may choose to avoid using for a while in the process.
Hyundai has revealed the all-new i30 – read more …read more
Source:: Autocar