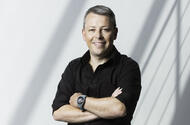 Former Kia design director Leclercq replaces Alexandre Malval, who is moving to head Mercedes-Benz's design studio in Nice
Citroën has announced that former Kia design director Pierre Leclercq will join the brand from November as its new head of design.
Current Citroën head of design Alexandre Malval will step down on 1 November after six years at the brand and 17 years at the PSA Group, having joining in 2001 as a designer. Malval's design career started at Renault in 1999.
Malval, according to Car Design News, will move to Mercedes-Benz, where he will be head of Daimler's design studio in Nice. Malval's most recent Citroën project to make production was the C5 Aircross, the plug-in hybrid version of which will be shown at the Paris motor show next month in concept form.
Leclerq leaves his position at Kia after joining in September 2017, following a four-year stint at China's Great Wall Motors. Previously, Leclerq has held positions at BMW, including chief of design at the M sub-brand, as well as positions in exterior design since 2000. His career started as an exterior designer at design house Zagato.
Citroën CEO Linda Jackson said: «I would like to thank Alexandre Malval for his contribution to the renewal of Citroën styling and for the high quality of our discussions. I wish him well for the rest of his career. With the appointment of Pierre Leclercq as Citroën head of design, I am fully confident in our ability to start a new cycle of creativity to offer models with even stronger design while continuing to embody the focus on comfort that is so central to the brand."
Leclercq will answer to Jean-Pierre Ploué, head of design at PSA Group. Ploué said: "I am very proud that Pierre Leclercq is joining us, with a strong reputation in the global automotive industry. I am convinced that he will bring all his talent to the Citroën brand and, more broadly, his international experience to the design direction of the PSA Group. «
Read more:
Why Citroen CEO Linda Jackson won Autocar's Great British Women Award
PSA Group «ready» for massive EV expansion across its brands
Used car buying guide: Citroen C6
Source:: Autocar