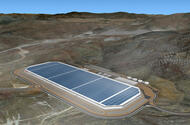 Tesla's next Gigafactory looks set to be built in Shanghai, with a European plant to follow; Shanghai's government has confirmed that initial agreements have been made
Tesla is expected to soon make the announcement its next Gigafactory in Shanghai, China, after the Shanghai government announced that an initial agreement has been made.
Bloomberg reports that the factory will have a 500,000 vehicle per year capacity, which would double the brand's targeted production. Musk also aims for 500,000 vehicles per year from its Fremont plant in California.
Previous reports uncovered that a new business licence has been approved for a company registered by Tesla's set-up in Hong Kong. The new Chinese company will be located in Shanghai's free trade zone, suggesting that this 47-square-mile area will become home to Gigafactory 3.
The new company, Tesla (Shanghai) Co Ltd, was set up with 100 million yuan (around £11.6 million), and will focus on "technical development; technical services; technical consultation; technology transfer in the field of electric vehicles, spare parts, batteries, and energy storage equipment; electric car display; and product promotion," according to Sina Finance.
Tesla boss Elon Musk has already said that the next Gigafactory will be in China, although the official announcement from the company isn't expected until the third quarter of this year.
Musk previously announced that the company's smaller models – the troubled Model 3 saloon and upcoming Model Y SUV – will be made at the plant, but not the Model S and Model X.
A European Gigafactory will be the company's fourth, although it appears to be some way off.
Tesla's well-documented production troubles with the Model 3 have led to heavy investment in the company's first Gigafactory to quell 'production bottlenecks' and reach delivery targets for the entry-level model.
Read more:
Tesla reports record losses – but boss Musk insists it is close to profitability
Tesla to build European Gigafactory
Source:: Autocar