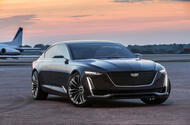 American luxury brand's concept is longer than an S-Class and features a twin-turbocharged 4.2-litre V8
The Cadillac Escala concept has been revealed at Pebble Beach as a model that offers a glimpse into the future design direction of America's luxury brand.
The four-door concept is built upon the rear-wheel-drive platform of the CT6 but ditches that car's saloon boot for a liftback design. The body is more than 5.3 metres long, making it around 10cm longer than a Mercedes-Benz S-Class.
The concept is powered by a twin-turbocharged 4.2-litre V8 that can run on just four-cylinders thanks to cylinder on demand …read more
Source:: Autocar