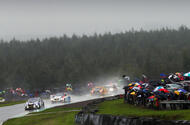 Sutton led home Turkington in race one – but it was the BMW driver who emerged the big winner of the weekend
BMW man Turkington take big step towards third title after technical infringement denies Sutton a pair of race wins
Despite not taking a race victory, Colin Turkington was the big winner from the British Touring Car Championship's trip to Knockhill, the BMW driver taking a pair of second places and a fourth to extend his title lead.
In wet and tricky conditions, reigning champion Ash Sutton was the star of the event, charging from eighth to take a dominant win in race one. The Subaru Levorg racer was first across the line in race two, but – along with second-place finisher Tom Ingram – was disqualified for a technical infringement.
That handed BMW driver Andrew Jordan victory in race two, while Ford Focus RS racer Tom Chilton held off Turkington's late charge to win the final encounter.
Sutton had started the first race eighth on the grid, but was supreme in heavy rain in the opening race. He quickly charged through the order, eventually taking the lead from pole-sitter Dan Cammish (Honda Civic Type R).
Shortly after, Cammish dropped to fourth behind Turkington and Stephen Jelley (BMW), but when the two cars touched, with Jelley punted into a gravel trap, he regained third spot. Josh Cook was fifth in his Vauxhall Astra, ahead of title contender Ingram (Toyota Avensis).
BTCC | EXCLUSIVE VIDEO: R22 in 60 seconds – Live on ITV4 at 11am #BTCC pic.twitter.com/PB3elz6yHR

— BTCC (@DunlopBTCC) August 26, 2018
Despite running full ballast, Sutton was untouchable in the second race, running at the throughout despite a number of safety cars helping his rivals close in. Ingram also shone in heavy rain, battling up to second ahead of Jordan.
The race was eventually red flagged early after a number of crashes in the worsening rain – but there was more drama to come when both Sutton and Ingram's cars failed post-race ride height checks.
That gave Jordan the victory, ahead of Cook and Cammish. Turkington moved up to fourth, extending his points lead over his two closest rivals: Ingram and Sutton.
BTCC | EXCLUSIVE VIDEO: R23 in 60 seconds – Live on ITV4 at 11am #BTCC pic.twitter.com/c9iJPhii6V

— BTCC (@DunlopBTCC) August 26, 2018
Chilton finished the second race sixth, and was drawn on pole for the final encounter. In marginally drier conditions he quickly pulled out a big lead, while Turkington battled up to second. The BMW driver closed in near the end, but Chilton held on to give the Motorbase team its first win of 2018. Jordan completed the podium.
BTCC | EXCLUSIVE VIDEO: R24 in 60 seconds #BTCC pic.twitter.com/xQvHcikBbN

— BTCC (@DunlopBTCC) August 26, 2018
Sutton charged to an impressive eighth from the back of the grid, with Ingram fighting to 16th. That means Turkington now leads Ingram by 43 points with two events remaining. Sutton is eight points further back.
Read more
BTCC 2018: Morgan, Sutton and Smiley share Rockingham wins
BTCC to feature hybrid powertrains from 2022 season
Source:: Autocar