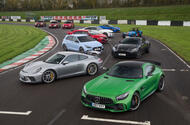 Britain's Best Driver's Car: 11 amazing cars, one ultra-tough circuit. Place your bets
The 11 most talented newcomers of 2017 battle each other over two days on road and track in a bid to be crowned Britain's Best Driver's Car
It has been three years since we were last at Castle Combe for a Britain's Best Driver's Car (BBDC) contest. That was the 25th running of our event, also known as 'Handling Day', and on that occasion Ferrari's 458 Speciale took the honours.
But what was remarkable about Combe then – as, we hope, now – is that despite it being one of the fastest race circuits in the country, its age-old bends, lumps and bumps actually make it a real challenge for a road car. So, too, are the country lanes that criss-cross this part of Wiltshire. If a road car can impress at sensible speeds on difficult terrain like this, it can impress you everywhere.
In pictures: Britain's Best Driver's car 2017 – tech specs
So as autumn neared winter last month, we were back, with bleak November showers giving way to occasional sunshine and some of the harshest conditions in which to run a contest like this. Because, actually, it matters: these are the kinds of driving conditions we encounter all the time and we want cars that are entertaining in all of them, not simply when we're spearing towards magical sunlit uplands on driving holidays that, frankly, most of us will hardly have the time to take.
As ever, we have chosen the year's best cars, plus, almost, last year's winner. Except that it isn't, quite. Representing the Porsche 911 R from 2016 is the latest 911 GT3 – because it is new and it would be ridiculous to have two 911s here. You'll meet the other runners and riders as we go, but from the off, please know this: they are a superb collection of the best that motordom has had to offer in the past 12 months, and we wouldn't hesitate to recommend a single one of them. Now, onwards.
The Giant Shootout: It's All To Play For
I'm going to say it now, and invite all comers to shoot me down: we've never had a tougher competition to discover Britain's Best Driver's Car (BBDC). Which is not to say that the competition has never been tougher, for that would imply we were unable to make up our minds without hours of agonising and extemporisation. We're better than that. Here, we have clear winners and equally well-defined losers. This was not one of the closest competitions in years, but it was the toughest.
Why? Three factors: Britain, November and Castle Combe. Britain, to be fair, has been common to all but one of the 29 BBDC events. We did once use a track in the south of France, but after we'd realised we'd had to fill the fuel tank of a Mitsubishi Evo VI 18 times to get it there and back, oddly enough those who count beans round these parts suddenly thought how much nicer it would be as a domestic event. But November? Well, we've never done that before; but as cars get ever better, so we must ask ever harder questions of them, and there are few more searching than those posed by leaf-strewn British back roads with temperatures locked in single figures.
Castle Combe poses a similarly searching question. This is a homecoming for us, because it was the site of that original 1989 BBDC event, a day that went splendidly. Well, until we wrote off a Ferrari. And that was a warm summer's day. Today, the cars have slippery, slimy conditions and at least double the average horsepower to deploy. All of Combe's legendary bumps remain as treacherous as ever yet come with not one inch of additional run-off. In conditions like this with cars like these, there are places where you'll be in the wall before you have time to think 'opposite lock'.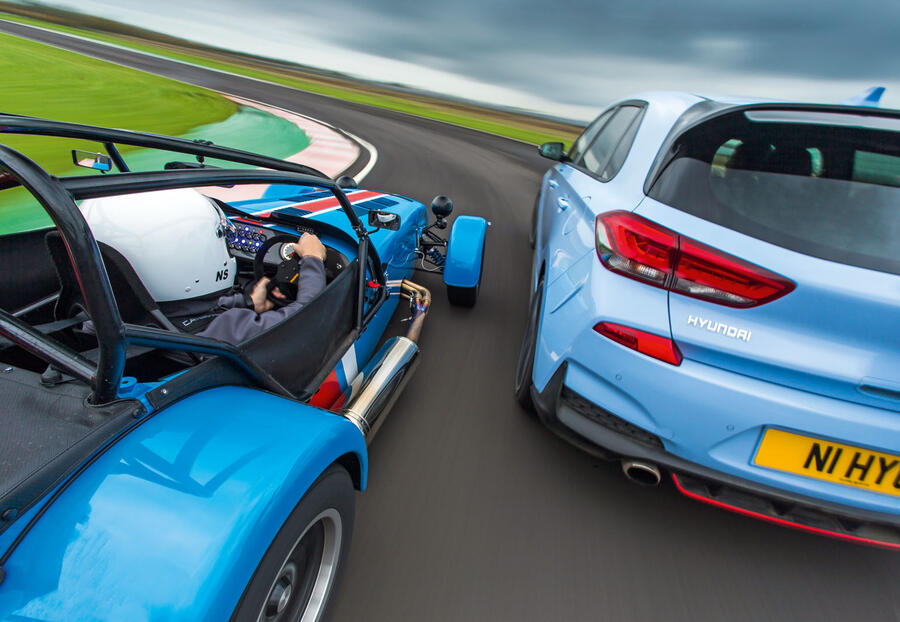 The choice was as catholic as ever. Cars with two, three, four and five doors, and with front, rear and four-wheel drive. Hatchbacks, saloons, supercars, coupés, sports cars and even one estate, with normal aspiration and forced induction, four, six and eight cylinders, all splashed through the puddles to assemble in the Combe paddock, the drivers' grins scarcely concealing the nerves beneath. Check out tech specs of the 11 finalists here.
As soon as the light at the end of the pit lane went green, a small queue of somewhat sheepish drivers appeared by the Volkswagen Golf GTI Performance. Feel free to read everything into the fact that, for us all, this was the de facto training car, the one we all wanted to drive first, to get our eyes in before progressing to more serious stuff. It did not disappoint. "Amazing stability and security in very wet conditions" was the first impression of contributing writer Dan Prosser, who loved its balance, brakes and how well signalled was the approaching limit of adhesion. Road test editor Matt Saunders went further: "For much of the deluged first day, this would have been the only car I'd have chosen to drive fast on track." It felt equally accommodating on the road, a car so easy yet effective in all conditions that it immediately made you wonder why you might spend so much more on some of the others that offered less bandwidth for their drivers.
The answer came when it dried out: for all its undoubted competence, the Golf still felt slightly antiseptic, the friend who'll open your mind, but conceal its heart. The view of editor-at-large Matt Prior that "I wouldn't mind if it were a touch more engaging, and more adjustable, too" spoke for us all. That said, a place in the final rankings alongside the Mercedes-AMG GT R despite a price gap of more than £110,000 will be a source of rather greater pride to one enormous German car company …read more
Source:: Autocar