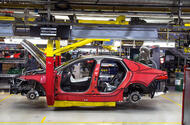 Summer factory shutdowns contribute to the third month in a row of declining manufacturing figures in the car industry
The UK's car manufacturing industry has posted the third consecutive month of falling output in August, with a 12.9% decline compared with the same month in 2017.
A total 89,254 cars were produced in the UK in August, compared with 102,438 in August 2017. Across the year so far, a manufacturing output has fallen by 5.2%, meaning almost 57,000 fewer cars have been produced in the UK across the year so far, compared with the same period last year. This decline is greater than that for total car registrations in the UK, which has declined by 4.2% for the year so far.
The decline in manufacturing was driven by a sharp drop in local demand for UK-produced cars of 38.8%, with 16,721 cars built in the UK and being sold here, which represents 17.8% of August's total new car registrations.
Cars built for export remained buoyant, with a comparatively modest 3.8% decline in August, and 72,983 cars leaving the country.
SMMT boss Mike Hawes pinned the decline to extra uncertainty around manufacturers' summer shutdowns in their production plants, but added: "The quieter summer months are often subject to fluctuations due to the variable timing and duration of annual maintenance and re-tooling shutdowns. This instability was exacerbated in August, with the industry racing to recertify entire model ranges to meet tougher [emissions] testing standards in force on 1 September.
"With exports, the majority to the EU, continuing to drive demand, it underscores the importance of a Brexit agreement to safeguard this trade; for our sector, 'no deal' is not an option."
UK-based Mini recently issued a warning around Brexit, stating that in the weeks after the UK's 29 March 2019 exit from the European Union, the brand will shut its Oxford plant for a few weeks, moving forward its summer shutdown date to coincide with when anticipated Brexit-related supply issues might happen.
The SMMT has long warned of the risks to UK manufacturing that Brexit – hard or otherwise – poses, warning that the «government must now maintain economic stability and secure a deal with the EU which safeguards UK automotive interests" following the Brexit vote in 2016.
A peak in UK manufacturing was seen in March 2017, with over 170,000 cars produced that month. This figure was the highest monthly output for UK-based car manufacturing in 17 years.
The latest figure is the lowest year-to-date output for UK car manufacturing since before the UK's vote to leave the EU.
Read more:
Brexit: what do the car makers think?
UK car manufacturing hits 17-year high thanks to growing exports
UK demand for British-built cars drops by almost half in June
UK-built cars 'to cost £2700 more in EU' with no-deal Brexit
Source:: Autocar