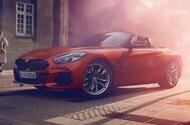 The new Z4's soft-top weighs 60kg less than the old car's hard-top
Third-generation roadster has been unveiled in limited-run M40i Performance First Edition form
BMW has revealed its new, third-generation Z4, with a renewed focus on driving dynamics to take on the Porsche 718 Boxster.
The new roadster, which has been developed in conjunction with Toyota's upcoming Supra, made its public debut in the US at the Pebble Beach Concours d'Elegance in Monterey, California, with global sales due to commence later this year.
The Z4 will makes its European debut at the Paris show in September, when BMW intends to reveal more about its mechanical package ahead of right-hand-drive deliveries to the UK in early 2019. The initially revealed model is the flagship M40i M Performance First Edition, which uses a 335bhp turbocharged 3.0-litre straight six petrol engine.
The 718 Boxster rival has been designed and engineered from the ground up in a move aimed at reigniting buyer interest in roadsters in the face of dwindling sales over recent years.
BMW Z4 prototype 2018: first drive of new roadster
As well as having a completely new look with more distinctive proportions, the new Z4 adopts an electrically operated fabric hood. The new structure is claimed to weigh 60kg less than the folding hard-top arrangement of the second-generation Z4, while providing the basis for a lower centre of gravity and what BMW officials describe as "more sporting driving attributes".
Q&A: New BMW Z4 designer, Calvin Luk
The new Z4, known internally under the codename G29, also uses a brand new platform, which will be shared with next year's Supra in a joint engineering programme between BMW and Toyota. The design of the steel-and-aluminium structure is described as unique, although it adopts chassis, suspension and electrical components from BMW's cluster architecture (CLAR) platform, as used by the latest 7 and 5 Series as well as the new X3, X4 and X5 SUVs and the upcoming seventh-generation 3 Series.
The Z4 will be built by Magna Steyr at its assembly plant in Graz, Austria, alongside the Supra.
With a brief to deliver more dynamic driving qualities than its predecessor, the new Z4's platform incorporates extra-wide sill elements that are said to contribute to a more than 30% increase in torsional rigidity over the structure used by its predecessor. When Autocar had an early drive of a prototype back in May, BMW described the new Z4 as the stiffest open-top car the manufacturer has yet built, claiming it to be stiffer than even the fixed-roof M4 coupé.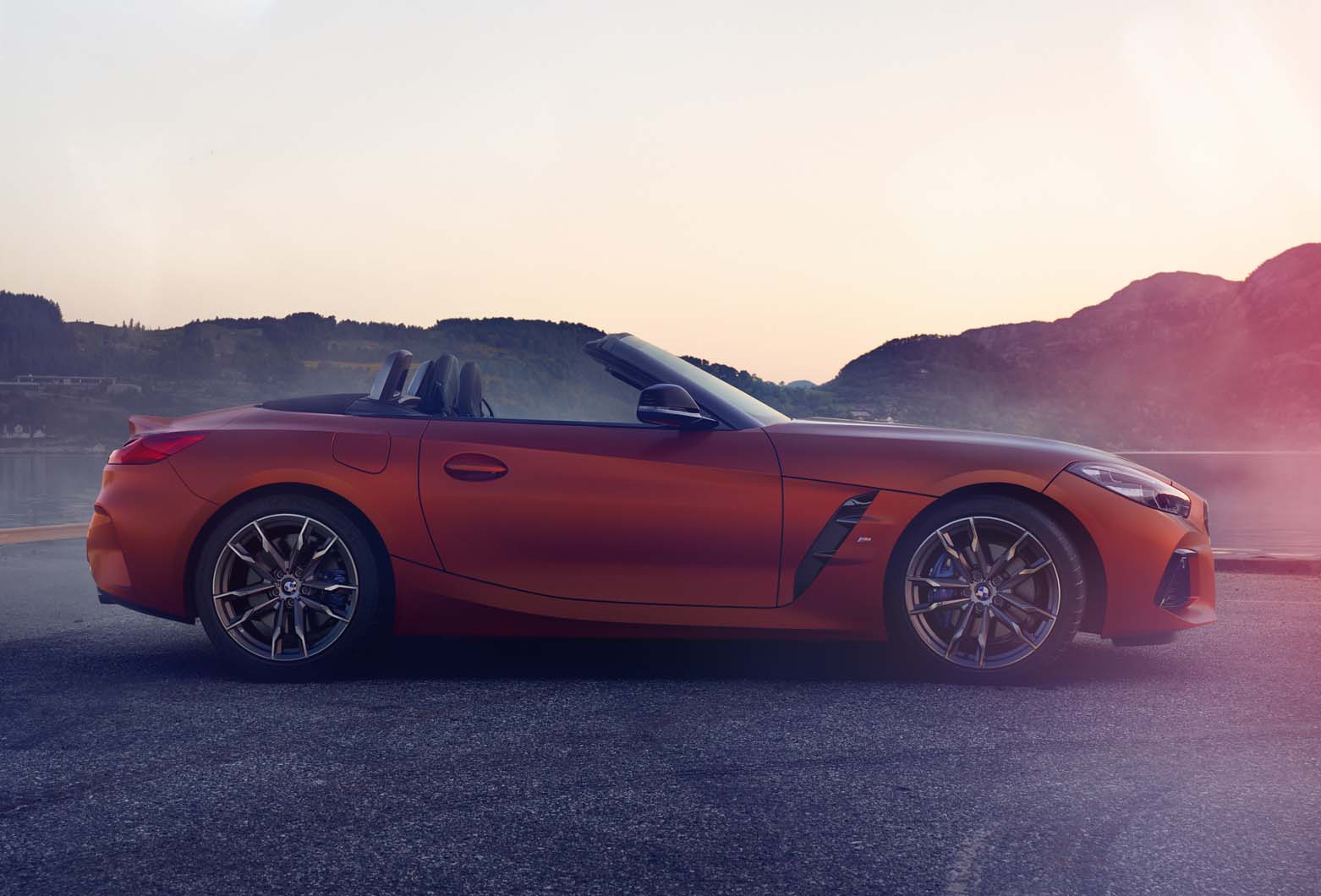 Despite increased dimensions, including a significant 70mm increase in width, the Z4 is also said to be around 50kg lighter than its predecessor, suggesting the M40i will weigh less than 1500kg. Its 3.0-litre engine is the same as that offered in a number of existing BMWs. With 335bhp and 332lb ft in the limited-volume M40i M Performance model, it propels the Z4 from 0-62mph in 4.6sec and on to a limited top speed of 155mph. Official fuel consumption and CO2 emissions are 39.7mpg and 162g/km respectively.
Opinion: Can the BMW Z4 do show and go?
The range-topping Z4's peak power is 3bhp shy of the 338bhp developed by the naturally aspirated 3.2-litre inline six in the old Z4 M Roadster, a performance version of the original Z4 produced from 2006-2008. But while it can't quite claim to be the most powerful Z4 yet, the M40i M Performance's 332lb ft peak torque output beats the Z4 M Roadster's by 63lb ft.
By way of comparison, the 718 Boxster S uses a turbocharged 2.5-litre horizontally opposed four-cylinder unit with 345bhp and 310lb ft.
The Z4 is also set to be sold with a turbocharged 2.0-litre four-cylinder petrol engine. This is expected to develop around 150bhp and 184lb ft in a planned entry-level Z4 sDrive20i model and some 260bhp and 288lb ft in a mid-range Z4 sDrive30i model.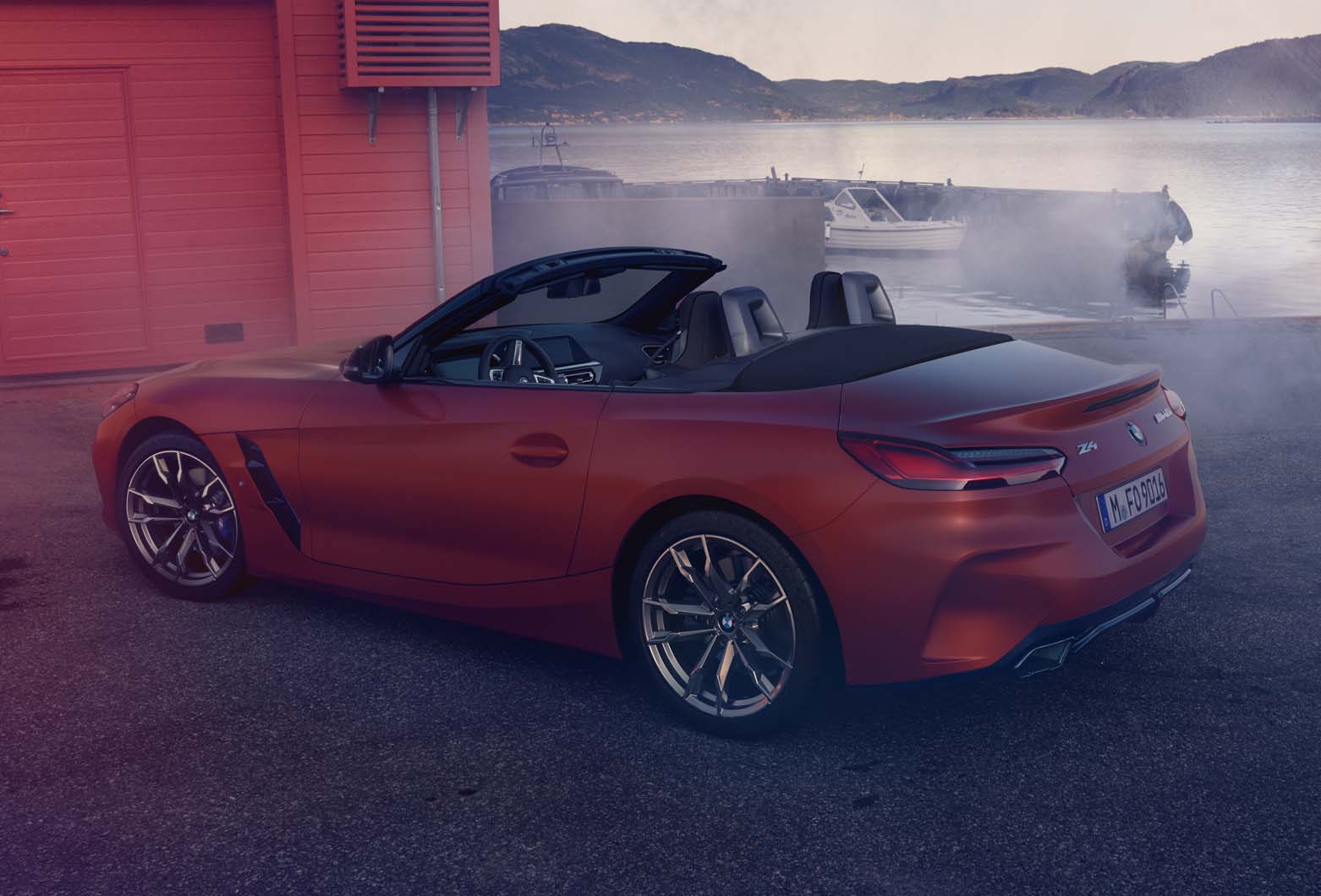 While full details are yet to be officially confirmed, it's understood that the Z4 sDrive20i will offer the choice between a standard six-speed manual gearbox and an optional eight-speed automatic, while the remaining models will all be fitted with the latter as standard. The M40i M Performance also comes as standard with an electronically controlled rear differential.
Early rumours suggesting the Z4 could be given the option of four-wheel drive on certain variants have been denied by BMW officials, with confirmation that it will be sold exclusively in rear-wheel-drive form.
In a move that would take it into direct competition with the likes of the Jaguar F-Type 3.0, BMW is also said to be developing a Z4 M variant. This is set to feature the same turbocharged 3.0-litre in-line six-cylinder engine launched in the new M2 Competition, with around 405bhp and the same 332lb ft as the Z4 M40i M Performance. The outgoing Z4 was never offered with an M-tuned variant, backing BMW's claims that the new car is a more sporting model.
With its engine mounted well back in the engine bay, the new Z4 is said to have a 50:50 weight distribution front to rear. In initial M40i M Performance First Edition guise, its suspension, which uses a combination of double wishbones up front and a five-link arrangement at the rear, features multi-mode electronically controlled dampers. An M Sport braking system is also standard on the launch model, as are 19in alloy wheels.
The interior of the Z4 features a new driver-focused dashboard with technology taken from BMW's latest saloon models. A digital instrument display and a touchscreen for the infotainment system have also been added, along with newly developed seats and a unique set of controls housed within a broad centre console. Among a long list of options are a head-up display and a Harman Kardon sound system, both of which are fitted as standard to the M40i M Performance First Edition.
Read more
2019 Toyota Supra due …read more
Source:: Autocar