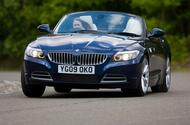 The two-seat roadster first went on sale in 2002 and will be replaced by a sportscar developed jointly by BMW and Toyota
The BMW Z4 has ceased production, the manufacturer has confirmed to Autocar, paving the way for the Z5 to be revealed in mid-2018.
The second-generation two-seat Z4 roadster was first launched in 2009 and cost from around £30,000 to £40,000.
However, while the E89 was likeable it didn't live up rivals like the Porsche Boxster and Mercedes-Benz SLK because of its poor ride and handling.
BMW has now predictably pulled the plug on the model in preparation …read more
Source:: Autocar