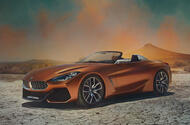 Concept precursor to BMW's new roadster shows the car's styling, albeit with some concept car styling touches
A full set of images of the BMW Z4 Concept has leaked onto the internet, revealing the styling direction of the 2018 Z4 roadster.
The images, which were discovered by Bimmerfile, reveal the show car in full, although no accompanying information was leaked; this will be released officially at the car's unveiling at the Pebble Beach Concours d'Elegance later today.
It follows the look that the latest BMW concepts, the X2 and 8 Series Concept – and their subsequent production models – will take, with larger kidney grilles at the front and a lack of Zicker line up the side of the car.
The car's roll hoop buttresses are finished in a satin steel finish, matching the narrow wing mirrors. Both of these features, as well as the ultra-aggressive deep front spoiler, aren't likely to make it to the production model, as is the two-tone brown and black leather interior, with one seat in each colour.
The concept's tail-lights are narrower than that of the old Z4. Above them is an integrated rear spoiler, reminiscent of the 'Bangle Butt' of BMWs from 2000s.
Despite the concept's exaggerated look, it's expected that many of the features will be carried over into the production version, as per the X2 and 8 Series.
BMW has faced criticism for an evolution-over-revolution styling approach, but this concept is a great departure from the old Z4.
Although the images only show the car with the roof down, previous spy shots of the production car show a return to a soft-top roof, something which the Z4 last had on the E85 version of 2003.
Read moreBMW X2 to be headed by 296bhp M35i xDrive modelBMW 8 Series Concept: an in-depth look with designer John Buckingham2018 BMW Z4 spotted testing flat-out at NürburgringBMW Z4 2009-2016 prices and specs
Source:: Autocar