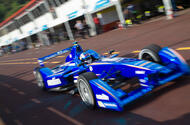 New engineering co-operation is expected to lead to a factory BMW Formula E team before 2020; racing technology will influence future i models
BMW will announce an engineering co-operation with the Andretti Formula E team, as the German car maker aims to raise its profile in the global all-electric single seater race series.
Among the areas in which the two companies are set to co-operate is in the development of electric motors and 'power electronics'. BMW has built up extensive knowhow in both of these areas in recent years as a result of the establishment of its electric i sub-brand.
BMW has …read more
Source:: Autocar