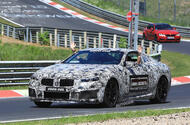 Hot 8 Series has been confirmed, with an endurance racing GTE variant hitting the Daytona 24 Hours in the new year
The BMW M8 has been confirmed by the brand, as has its endurance racing counterpart – the M8 GTE.
It'll sit above the recently confirmed 8 Series, which itself was previewed by the 8 Series Concept, revealed this week.
It's likely to get the 6.6-litre V12 from the M760Li, which with 601bhp is BMW's fastest-accelerating model to date, reaching 62mph in 3.7sec. It is likely to surpass the M760Li, as the model will be considerably lighter than its extended-wheelbase 7 Series sibling.
The production car will have M's signature quad exhaust pipes, larger brakes and uprated air intakes, BMW announced, although further details have not been given.
M division president Frank van Meel said: "The conception and development of the standard BMW 8 Series and the M model run in parallel. The future BMW M8 will build on the genes of the 8 Series and augment its DNA with added track ability and generous extra portions of dynamic sharpness, precision and agility. It all flows into a driving experience that bears the familiar BMW M hallmarks and satisfies our customers' most exacting requirements."
The M8 GTE will be given its racing debut at the Daytona 24 Hours in January next year. The standard M8 is likely to be revealed ahead of this; the 8 Series goes on sale in the second half of next year, although no reveal date has yet been provided for either.
The M8 will carry a heavy premium over the standard 8 Series, so a starting price surpassing that of even the i8 supercar is certain; the Mercedes-AMG S63 kicks off at around £131,000, so the M8 should remain competitive with its Stuttgart competitor.
Source:: Autocar