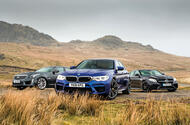 The CTS-V might have the most power and torque on paper but, in a real-world tug of war…
BMW M has raised its game for the mighty new M5. But it needed to with rivals as compelling as this. We feel the force on this 1835bhp shootout
Wary and withering looks were not in short supply, I can tell you.
A three-car, near-2000-horsepower, 10-wheel-drive convoy of super-saloons rolling up next to a gently steaming strip of Tarmac, freshly laid by one of North Wales' finest road resurfacing crews, is evidently a rare occurrence in those parts – and also a cause for muttering concern.
So it was last week. With the snow melting across the Snowdonian valleys, the good local councillors had plainly sent out the diggers, mixers and rollers to deal promptly with the potholes that elsewhere in Britain were doubtless being left to cause angry consternation and inevitable correspondence. Bravo, we should add: civic responsibility, thy name is Gwynedd.
Except that in one particular instance, before the Instarmac had fully set, there we were, just as they were picking up the cones, in a 604bhp four-wheel-drive Mercedes-AMG E63 S, a 640bhp Cadillac CTS-V and the new 591bhp four- wheel-drive BMW M5, apparently ready to furl up the untouched, still hardening, barely painted road under our wheels like loose carpet. That was the unvoiced accusatory tone of those looks, at any rate, which certainly proved one thing beyond doubt: that the days when fast saloons like this could pass under the radar are now long gone.
Then again, when the horsepower bar is set at 600 and the cars are capable of hitting 60mph from rest in less than 3.5sec, the modern super- saloon only gets the sort of attention that goes along with that supercar performance level, I suppose. It's natural to wonder what on earth these other-worldly executive four- doors are like to drive; and perhaps curiosity was all it was. And, had we been sharing a table at the local nutritious breakfast eatery, I'd have been delighted to tell the chaps in question the truth of it: that these cars are all every bit as rapid as you might expect them to be, but far from identically rabid.
Actually, I'm not sure we were really in 'convoy'. 'Motorcade' might have been a better word, since the procession in question included a Cadillac. We thought it only proper to pluck rivals for the new BMW that would represent as stern a test as possible.
In the one corner, then, wearing the obsidian black shorts with the chrome trim, was the car you will have expected to front up for this exercise. The E63 S 4Matic+ beats the new M5 on both power and torque but uses a twin-turbocharged V8 engine (exactly like the BMW); it has a four-wheel-drive transmission that can revert to rear drive on request (exactly like the BMW); it has a 0-62mph acceleration claim that matches that of the BMW to the tenth; and it is priced close enough to the BMW to acknowledge the inevitability of the comparison.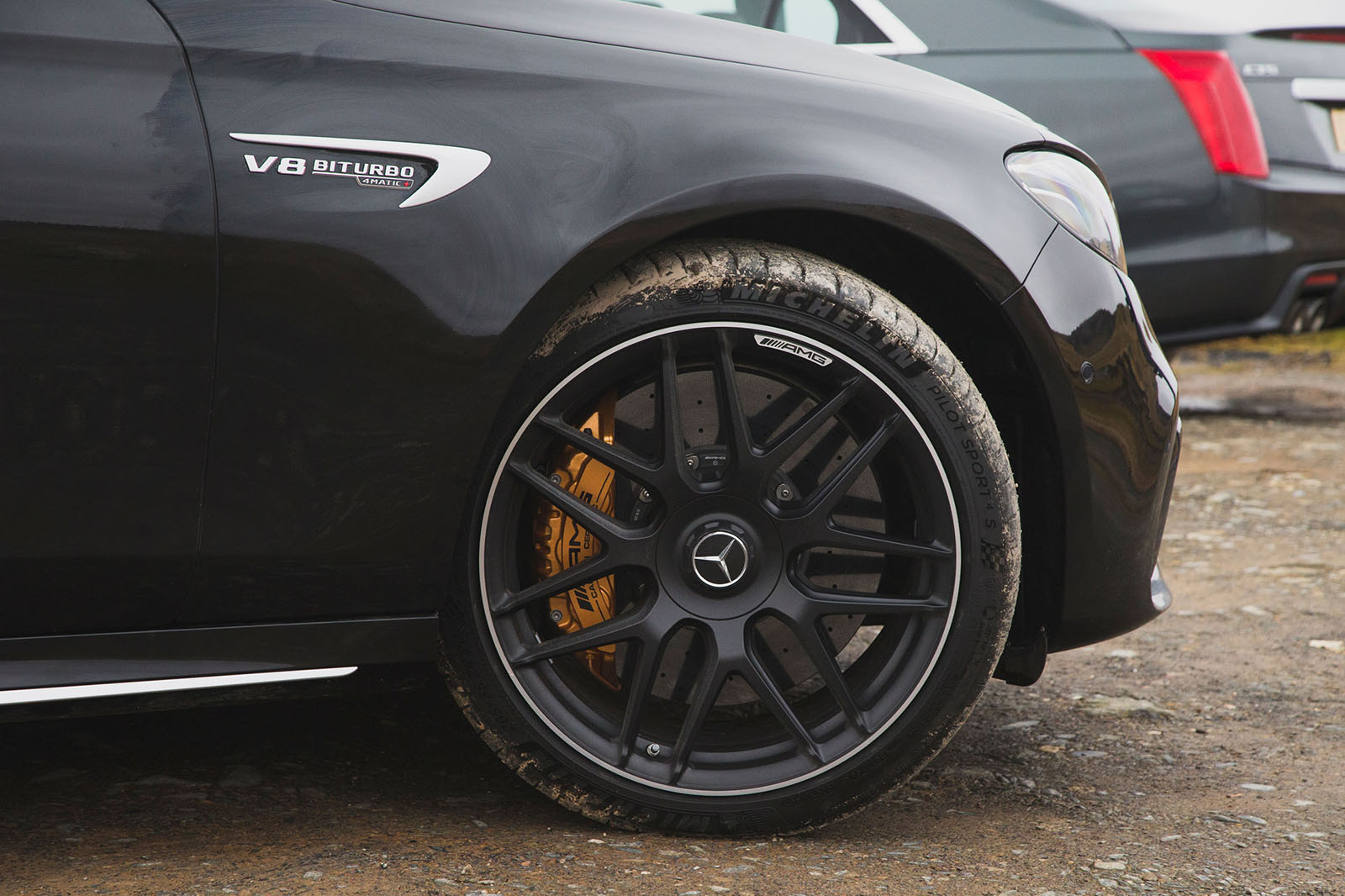 But the CTS-V isn't so obvious, is it? Isn't so 'luxurious' or 'premium', isn't as technologically advanced or expensive, and isn't nearly so German; facets you'll doubtless quite like about it. Moreover, whereas the M5 and E63 have departed from the classic super-saloon's mechanical recipe, the CTS-V is like a rolling, whining, thunderous tribute to it.
It has a supercharged two-valve V8 engine, one driven axle, and up to 631lb ft and 640bhp to throw at it – in that order. It also has an unrestricted top speed that stops short of the big '2-0-0′ by one solitary mile per hour. How could a car like that not get an invite to the new M5's welcoming party?
Super-saloons are a peculiar breed of performance car, and there are three big questions to answer about these ones, I reckon: how usable, comfortable and practical they'd be on a daily basis; how fast and exciting they are on UK roads in 2018; and how complicated they have become. Let's take those in order.
Is the mid-sized executive saloon the most natural candidate for the super-saloon treatment? It's highly debatable, but the size of cars such as the new M5 works both for them and against. A proper mid-sized saloon gives considerably greater comfort for four adults than, say, a BMW M3 or Alfa Romeo Giulia Quadrifoglio would. No part of any of these cars looks or feels small or confined – not the back seats or the rear door openings or the boot, and especially not the driving environment. As far as practicality is concerned, these are fully grown-up cars.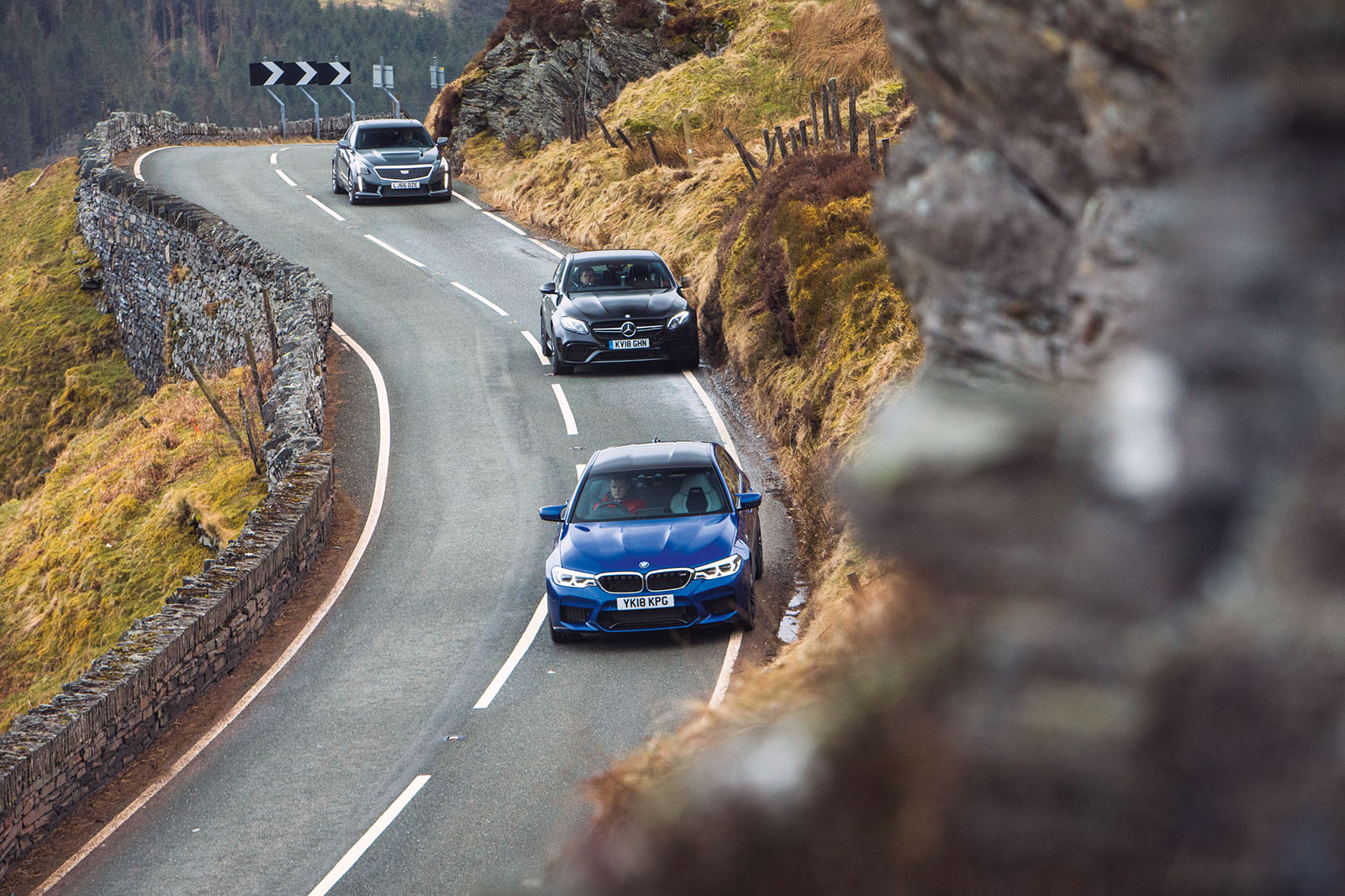 There is also very little to chose between them when you're looking for relative merit. The E63 has, by a whisker, the biggest boot of our three and, by an equally slim margin, the roomiest cabin and the most comfortable seats, although the M5 is very competitive and impressive in all three respects. The CTS-V's boot is slightly small in relative terms, but it still seems big when you're visually sizing it up.
But big on the inside means big on the outside too. Would you be surprised to read that the new M5 is wider across the door mirrors, for example, than a McLaren 570S?
The E63 and CTS-V squeeze under that threshold, although they both feel like sizeable cars on typical British A-roads and B-roads. But there's no mistaking that the 5 Series feels widest of all – and it'll be wide enough to make plenty of owners think carefully about the sorts of roads they seek out in it.
The Cadillac is left-hand drive only, which brings its own challenges. Our test car – supplied by the UK's only appointed Cadillac dealer, Ian Allan Motors – felt wide on narrow roads for a different reason: because it takes a while to get used to riding so close to the verge. You get better at keeping the offside …read more
Source:: Autocar