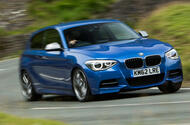 We have bought a used BMW M135i to see how far we can improve this rear-wheel-drive hot hatch
Why we're running it: To discover how much we can enhance this used BMW M135i with a little help from our friends at Birds
Life with a used BMW M135i: Month 3
Tweaking the M135i's tyre pressures – 18 October 2017
Having replaced the standard suspension with uprated springs and dampers, I've been playing with tyre pressures.
I wanted to find the perfect compromise between ride quality, tyre stability and grip. I found 29psi was great for ride and grip, but the tyres squidged around too much in hard cornering.
But 37psi knackered the ride and did nothing for grip, so I've settled on 32psi. Perfect.
Mileage: 32,150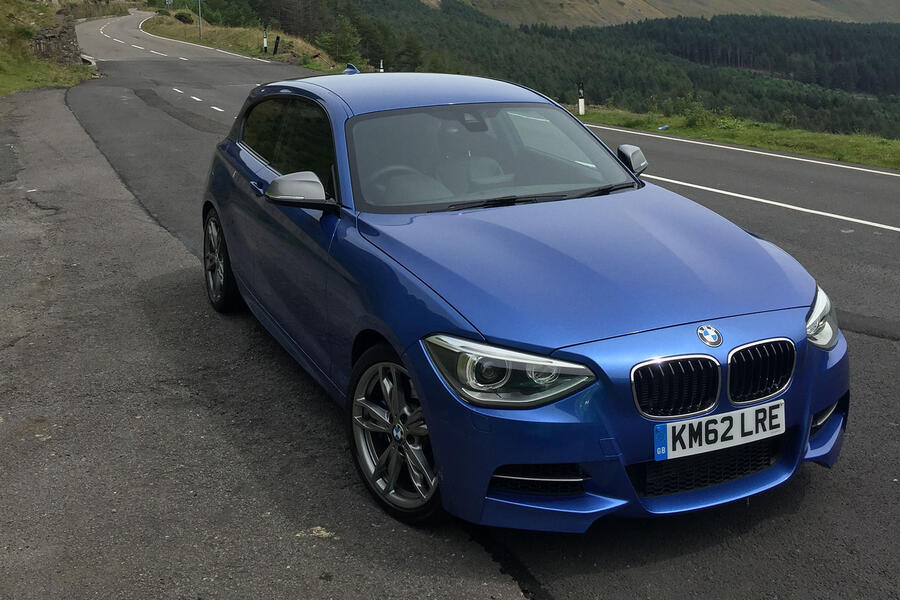 Life with a used BMW M135i: Month 2
Getting to grips with the M135i's suspension – 13 September 201​7
Perhaps the single biggest upgrade we'll make to our used M135i is also the first – the suspension.
Out goes BMW's Electronic Damper Control equipment in favour of a set of Eibach springs with passive Bilstein dampers, both tuned specifically for the M135i.
Birds, the specialist we're working with on this project, recruited former racing driver James Weaver and experienced race engineer Peter Weston to tune the new suspension.
Between them, Weaver and Weston chose appropriate off-the-shelf springs for the car while also specifying their own damper curves to Bilstein, which built the damper kits accordingly.
The result is that the Birds suspension upgrade for the M135i is proprietary. You can't get it anywhere else. The new suspension took half a day to fit, costing £1554.23 with installation, but not VAT (which takes the total to £1865.08).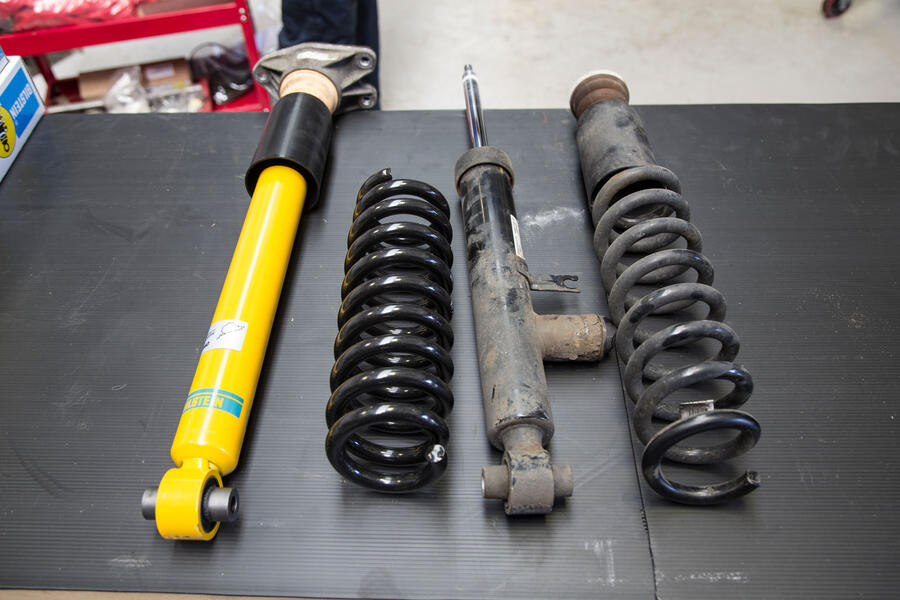 "I drove the standard car and it was a bit of an eye-opener to say the least," says Weaver. "The ride quality was pretty poor. The problem is that in Germany new cars have to be able to do 124mph, five-up and with a fully loaded boot, normally on smooth roads."
Consequently, as Weston explains, modern cars are desperately over-damped most of the time, when they only have one or two occupants. They are also often not optimised for the UK's broken, bumpy road network.
It means that most cars, the M135i included, offer plenty of room for improvement, which certainly tallies with my own experience of the car.
Weaver and Weston test drove a standard M135i using a loop of about four miles – mostly made up of narrow, bumpy lanes – near Birds' Buckinghamshire headquarters.
They found that the ride quality was poor, mostly because there was far too much rebound in the standard set-up, and the car also lacked grip, traction and steering precision.
"The damping I've incorporated into the shocks is what we've learned over the years with James in a racing environment, with a high-performance car on a bumpy circuit like Sebring," says Weston. "That experience taught us an awful lot about how to support a car on the springs and yet have damping that allows you to go over bumps. It blows the theory that for a car to be good over bumps you need soft springs – that isn't always the case."
The Birds M135i project really gets going today. In to have the uprated springs and dampers fitted. Will make a huge difference. pic.twitter.com/xmD7WNz14g

— Dan Prosser (@TheDanProsser) August 11, 2017
The set-up the pair eventually arrived at includes springs that are 15 percent stiffer at the rear and about 10 percent stiffer at the front, with a 10mm drop in ride height over the front axle.
The retuned damping has much less rebound, allowing a given wheel to quickly drop out of its wheel arch rather than hanging up in there.
Whether driving over a bump in the road, a pothole or sunken drain cover, less rebound damping will massively improve ride quality.
I've covered a few hundred miles on the new set-up now and it's definitely a big step forward. What it certainly isn't is a very stiff, track-focused set-up.
Instead, the car now feels much more settled on bumpy roads at speed. It no longer leaps about with the tyres losing contact with the ground.
It's more comfortable now too, the new suspension rounding off potholes and smothering broken, rough patches of tarmac.
Body control is also much better and the car no longer feels as though it's going to bounce itself off the road over crests and undulations.
The steering upgrade, meanwhile, is simply a pair of 10mm spacers on the front axle that subtly adjust the geometry. The steering now feels sharper and more direct, although it's not a night-and-day improvement.
The next upgrade will be a Quaife limited-slip differential to further improve traction and make the car easier to control on the throttle right at the limit of grip. Only then will we go anywhere near the engine.
Mileage: 31,706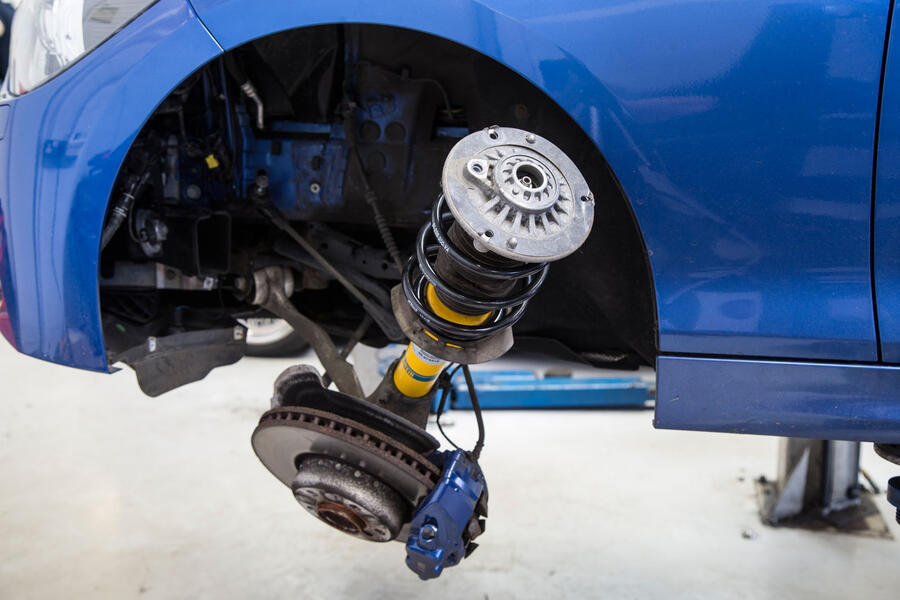 Life with a used BMW M135i: Month 1
Welcoming the BMW M135i to our fleet – 16 August 2017
My new long-term test car isn't new at all. In fact, it's coming up to five years old.
By the standards of today's throwaway society, that probably means it's halfway to the scrapheap already, but we have grand plans for it nonetheless.
The BMW M135i was launched in 2012, making this 62-plate example one of the early cars. The M135i was so well received by the press and car-buying public that you couldn't read through more than 15 internet forum posts without somebody telling you to get one.
Five years on, the cheapest, leggiest M135is have lost more than half their value. You can pick up a 70,000-mile car today for around £14,000, which looks like very good value indeed for a modern rear-wheel-drive hatch with 316bhp.
This particular car has covered 30,000 miles and it cost £17,500. The spec is just about spot on: three doors, …read more
Source:: Autocar