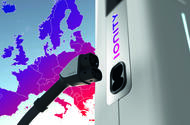 Twenty of around 400 stations have been installed, with the UK part of long-term plan
A consortium of German car giants, along with Ford, have begun work on an electric vehicle fast-charging network across Europe, named Ionity.
So far, 20 stations have been completed of a projected 400 charging stations. The network currently stretches from Germany to Norway, with 120km between each station. The short-term target is 50 stations by the end of the year.
Despite the current political climate, the UK will be included in Ionity's charger network. However, no details have been revealed about how wide the network will be in the UK and how many chargers there will be.
Next year, a further 50 stations will be added to the network, with the project reaching its 400-station target by the end of the decade. This isn't the final number of stations; more are expected to arrive after this.
BMW Group, Daimler AG, Ford and the Volkswagen Group, including Audi and Porsche, are all part of the scheme, which is open to other car makers. Even if they do not join the scheme, other manufacturers' cars can still be charged on the system if they are equipped with the Combined Charging System (CCS).
CCS is already used by BMW's i cars and the Volkswagen e-Up and e-Golf. Ford's electric vehicles and Mercedes' EQ range will also use the system. Tesla, PSA Group, Nissan and Mitsubishi are not compatible with CCS.
Charging capacity of up to 350kW is planned for the network. Tesla Superchargers are currently less than half of this power.
Read more:
BMW, Daimler, Ford and VW plan Europe-wide EV fast-charge network
Government to make EV chargers mandatory at large petrol stations and motorway services
The road that charges your electric car
London to gain 1500 new residential electric car charging points by 2020
Shell Recharge electric car service launches first in UK forecourt
Source:: Autocar