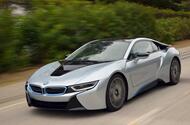 Leaked report says BMW's Australian finance company handed out big loans to low-income customers
A leaked Ernst and Young report has blasted BMW Finance for offering low-income customers loans to purchase expensive luxury vehicles.
According to The Age, the report says BMW Australia Finance gave $27,000 to a mother of 10 who had a zero hours work contract. The firm also offered close to $50,000 to a 76-year-old man using earning projections instead of his actual income.
Ernst and Young's report says the actions weren't isolated to a few cases but represented a wider «sales culture» in the Australian company that …read more
Source:: Autocar