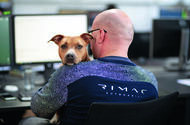 BMW's range-topping cabriolet is set to be officially unveiled tomorrow, but images have been published early
BMW's drop-top version of the new 8 Series has been revealed in leaked images ahead of its official unveiling tomorrow.
Barely a week after we first got behind the wheel of the range-topping coupé, a Belgian motoring site has published what look like official press shots of the 8 Series Convertible in all its glory.
The shots reveal, unsurprisingly, that the convertible's bodywork from the door tops down is largely identical to the hard-top, with a more aggressive bodykit and larger wheels indicating (alongside the badging) that this is the initial range flagship M850i version. A full-fat M8 Convertible is due to launch several months after the standard car, with over 600bhp expected from a twin-turbocharged V8.
Unlike the outgoing 4 Series – but in common with the recently axed 6 Series – the 8 Series Convertible features a traditional cloth fabric roof in place of the once-fashionable folding hard top. This means that the weight increase over the coupé will be kept to a minimum. Nevertheless, it's still likely to be a two-tonne car due to the additional structural bracing required.
A view of the interior shows the cabriolet retains two full-sized rear seats, with the rest of the cabin identical to the coupé.
The M850i is powered by a 530bhp 4.4-litre twin-turbo V8. Expect a couple of tenths added to the 3.7sec 0-62mph time given the weight increase, but it should still easily be capable of reaching the 155mph limiter. A 3.0-litre six-cylinder diesel variant will also be offered, putting out 320bhp. Other variants are expected to be offered in both 8 Series bodystyles later in its life cycle, while a four-door Gran Coupe is also on the cards.
The 8 Series Convertible is the latest model in BMW's far-reaching product overhaul. It follows the new 3 Series, X7 SUV and Z4 roadster, with further models – including the all-electric i4 saloon – in the pipeline.
Source:: Autocar