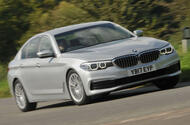 The BMW 5 Series is top of the mid-exec pack, but is there still room for a diesel saloon in everyday family life?
Why we're running it: The BMW 5 Series is the go-to executive saloon for those who enjoy driving. But is it also a great family car?
Life with a BMW 520d: Month 1
Welcoming the 520d to our fleet – 27 September 2017
The BMW range may have mushroomed over the past decade or so, with the brand moving into every market niche imaginable, but that doesn't mean it has taken its eye off the ball when it comes to traditional models like the 5 Series.
Blending supreme ride comfort with a cutting-edge interior and – whenever it takes your fancy – exciting and entertaining rear-wheel-drive dynamism, the latest 5 Series' numerous talents make it our pick of the current executive car crop.
Predictably, it was close when we tested it against the Jaguar XF and Mercedes-Benz E-Class earlier this year but the 5 Series won out by virtue of it being the best all-rounder.
Here's the thing, though: can all the people who now buy SUVs instead of big saloons be wrong?
Or when you start a family, as my wife and I recently have, do you suddenly see the light and start to wish you had an X as well as a 5 in your BMW's name?
I'll be finding out for myself in the months ahead but, for now, I'm still marvelling at just how far BMW has moved this new 5 Series on from the previous version, which, let's be honest, wasn't exactly shabby.
Okay, the new car maybe looks a bit too much like the smaller 3 Series and bigger 7 Series, but being based on the same Cluster Architecture (CLAR) platform as the 7 Series is a real benefit because it incorporates aluminium, magnesium and titanium to help reduce weight by up to 100kg.
This is good news for both performance and fuel efficiency, and the sense that you're basically getting a 7 Series limo for a lot less cash continues when you climb into the cabin of the 5 Series. The switchgear is pretty much identical and the materials are just as classy, plus six-footers have enough space to stretch out in the rear as well as in the front.
When deciding which engine to go for, we were tempted by the effortless performance of the 530d's 3.0-litre diesel unit but, ultimately, we've gone for the 2.0-litre 520d because this is bought in much bigger numbers.
To be more accurate, it's easily the most popular version among the company car drivers who make up the bulk of 5 Series 'owners', thanks to sub-110g/km CO2 emissions that bring correspondingly low benefit-in-kind tax bills.
Where most people opt for the sporty-looking M Sport trim, though, we've stuck with the cheaper SE specification because this has smaller alloy wheels that improve the ride and it still comes equipped with everything from satellite navigation and leather upholstery to front and rear parking sensors and an eight-speed automatic gearbox.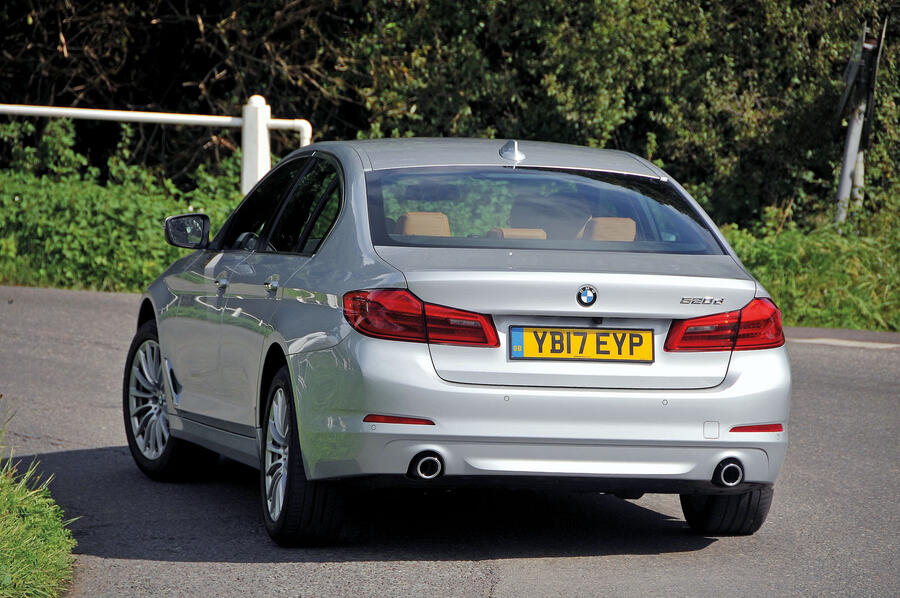 BMW also offers a long list of optional extras, from which we selected the Electronic Damper Control system (£985), which lets you soften or firm up the suspension to suit the road conditions.
The £895 electric front seats with driver's memory seemed like another sensible addition, given that lots of different people will be sampling the car during its time with us.
And although it feels a bit cheeky of BMW to charge £335 for split folding rear seats, these do bring useful extra versatility.
Our car also has several options that BMW was keen for us to try, including gesture control (£160) and a Display Key (£235) that lets you remotely check whether the doors are locked and the lights are off, and even prep the air-con to come on in time for your return to the car. I'll report on whether these features are worth the money after I've spent more time using them.
In the meantime, first impressions of the 5 Series are almost entirely positive, and I've been particularly impressed with the engine refinement. In the past, four-cylinder BMWs have been a bit grumbly at town speeds and when cold, but the latest 520d is always super-smooth.
In this respect, it's significantly better than my previous long-term test car, a Volvo S90. Although both cars are comfortable cruisers, the S90 feels like the heavyweight it is on winding roads, whereas the 5 Series disguises its bulk brilliantly when you put it in Sport mode.
Perhaps the biggest difference, though, is in their respective infotainment systems. The S90 features a large touchscreen that looks smart and lets you swipe, pinch and scroll as you do with an iPad.
Unfortunately, although this sounds good in theory, the system is actually rather slow to respond and can cause you to take your eyes off the road.
By contrast, the latest iteration of BMW's iDrive set-up is almost impossible to fault. As in the S90, the screen is touch-sensitive, so you can quickly punch a destination into the sat-nav when stationary, but there's also a rotary dial and some shortcut buttons that are far less distracting to use on the move, plus the menus are more intuitive and there's none of the Volvo's sluggishness.
As for gripes, there really is very little to report at the moment. Fingers crossed, that won't change – but, if it does, you'll read it here first.
Steve Huntingford
Second Opinion
Can we talk about how brilliant iDrive is? This 5 Series was the first BMW to receive the latest version, which allows you to set custom tiles on the home screen for your favourite functions, and it has made an already good system great.
For sheer ease of use, it leaves the Audi MMI and Mercedes-Benz Comand set-ups leagues behind. …read more
Source:: Autocar