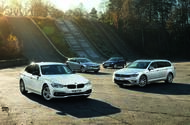 The Audi A3 Sportback e-tron, Volkswagen Passat GTE Estate and Volvo V60 D5 Twin Engine face BMW's electrified saloon
Which is the best sub £40k plug-in hybrid – the BMW 330e, Audi A3 Sportback e-tron, Volkswagen Passat GTE Estate or Volvo V60 D5 Twin Engine? We test them all…
The past couple of years have been long ones in the world of plug-in hybrid executive cars.
But now that they've survived the awkward years, when all they delivered was a gimmicky tax break to the occasional company boss who probably didn't need one, these petrol-electric and diesel-electric curios have begun to mature more rapidly than a pubescent teenager after a hormone injection. These electrified hatchbacks, saloons, SUVs and estates are now numerous enough to be spotted on most UK motorway journeys, well known enough to make only slightly geeky dinner party conversation (which my salmon en croute more than makes up for, by the way) and cheap enough to make an appealing alternative to a higher-level conventional petrol or diesel-engined car.
All they need to be now is 'better': quicker, smoother, more efficient, more refined, more engaging to drive and easier to use than their simpler piston-engined counterparts. And not just in the brochure or the notoriously unrepresentative EU laboratory emissions test, but also out in the real world. Because technology can always be relied upon to win through when it makes a better car.
So are we there yet? After the past couple of days, spent in the company of the latest sub-£40k plug-in hybrids from Audi, BMW, Volkswagen and Volvo, we'll provide an answer to that question over the next few pages. Those two days involved lots of back-to-back urban and motorway mileage, plenty of charging and zero-emissions running, a fair bit of real-world economy testing and some good old-fashioned hard road driving in between.
The cars involved – chosen to make as fair a comparison as possible but also to show the choice that already exists in a market to which many remain ignorant – include a five-door hatchback, a four-door saloon and two mid-sized estate cars. The Audi A3 Sportback e-tron brings the lowest CO2 emissions and kerb weight to our proceedings, not so coincidentally also being the smallest car on test. The Volkswagen Passat GTE Estate is the newest and has the most powerful electric motor of the group, as well as the biggest boot. The Volvo V60 D5 Twin Engine bucks emerging mechanical type with its five-cylinder diesel combustion engine and self-contained electric rear axle. Finally, the BMW 330e keeps things simple, with an electric motor where its torque converter would otherwise be and the smallest drive battery of the four.
Here are four cars that are priced between £34,000 and £39,000, are available on like-for-like business contract hire deals for around £400 a month and might save you the thick end of £200 a month on company car tax – depending on what you're getting out of and how much income tax you pay. So they're real, they're affordable and they stand ready to save you a hefty wedge of cash. Which should you buy?
REAL-WORLD ECONOMY
You probably already know if you're the kind of driver who could benefit from a switch to plug-in hybrid power. You're an Autocar reader, after all – and we've been extolling the virtues of PHEVs for long enough now. But in case you don't, here's a breakdown. You'll probably live in an urban area and be within about 30 miles of your place of work. You'll probably seldom cover more than a few hundred miles in a week. You'll have a driveway, or at least somewhere to park your PHEV where it can be charged at home; ideally, somewhere at the office, too. And you probably also pay for most of your car's fuel out of your own pocket.
And so, in the spirit of testing new cars in the context for which they were designed, I concocted a short test route to drive our four rivals back to back. The aim was to answer what always seems to be contentious question number one in any conversation you have about these cars: we know the EU test results, and we know they're bunk, so what kind of fuel economy will these cars really do, and do they really go as far on electric power as it's claimed?
We happened to pick a wintry day on which to answer those questions, and so you can consider the following figures quite conservative. With more than about 5deg C of ambient temperature, the drive batteries in these cars should work a bit better.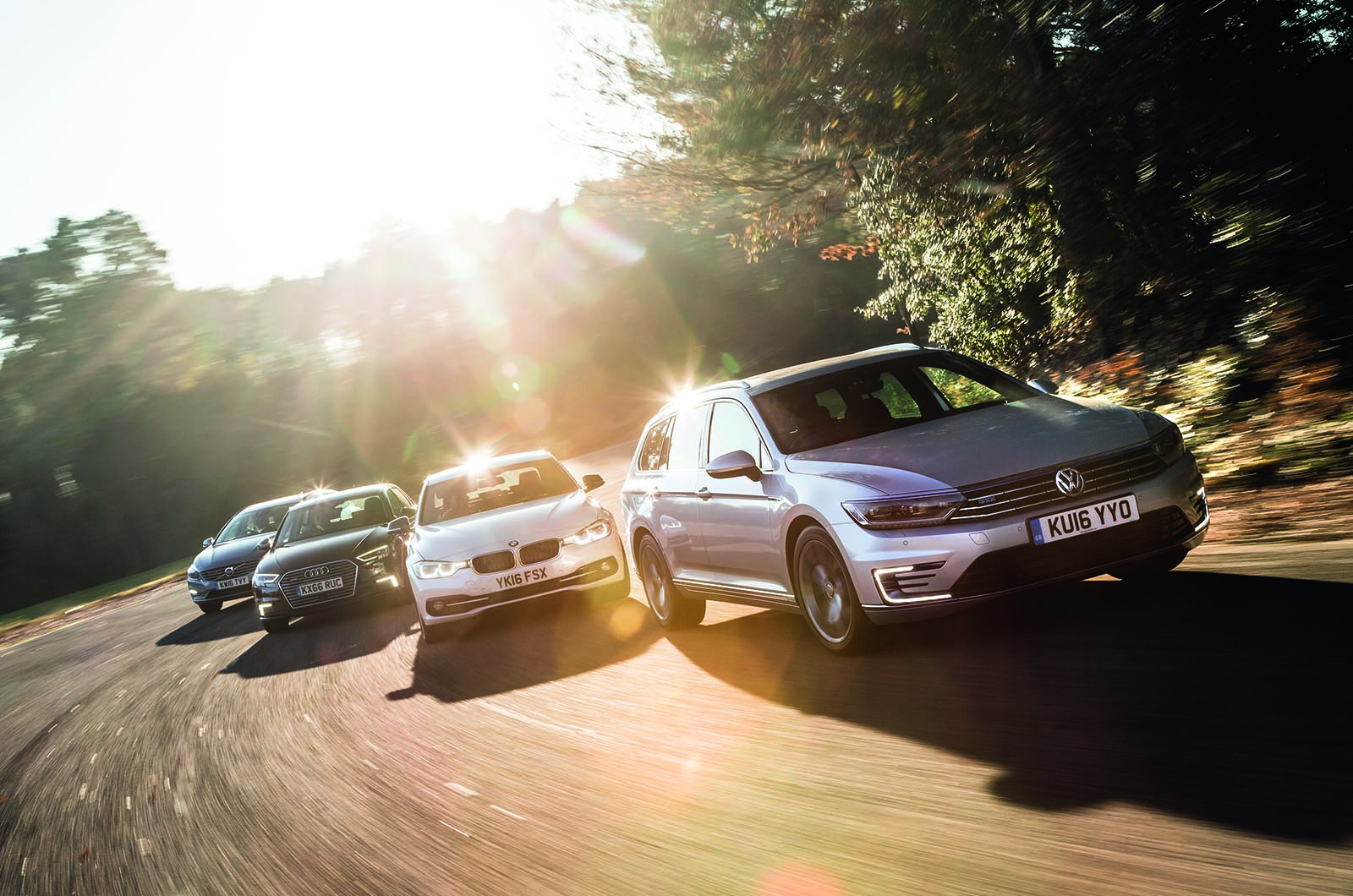 And yet even the least economical car here will top 80mpg – on that 30-mile town and trunk road test route, admittedly, and only after a full charge. It's the 330e that props up the order – predictably, given that it has the least capacious high voltage drive battery here and the most powerful combustion engine. Even so, at least to this tester's 20th century mind, 80.4mpg still seems like a pretty sensational result to get from your 249bhp BMW 3 Series on the way to work.
That's particularly true when you consider that our third and second most economical plug-in hybrids returned little better than the BMW. The Passat GTE Estate narrowly pipped the 330e, returning an indicated 81.7mpg – and the A3 e-tron narrowly pipped both, at 86.5mpg. All three cars use fairly compact turbocharged four-cylinder petrol engines, of course, and all use an electric motor that drives through the same gearbox as that petrol engine, so similar economy is to be expected. The Audi's result proves that a relatively low overall kerb weight can still be an important advantage to a car like this. The Volkswagen's figure indicates that sophisticated driving controls can also make a difference, because the Passat offers you easier and finer control over the electric motor's freewheeling and battery regen settings than any of its opponents.
But now get this: it's …read more
Source:: Autocar