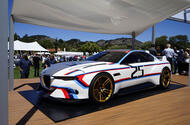 BMW 3.0 CSL Hommage R
Racing variant of BMW's 3.0 CSL concept could point towards future BMW M products
BMW has revealed a racing version of its 3.0 CSL Hommage concept car at the Pebble Beach Concours event.
Almost identical to the concept unveiled at the Concorso d'Eleganza Villa d'Este in May, this updated version sports BMW's racing colour scheme.
New improvements include a race suit that can display information to the driver. The driver's helmet can display speed and engine information, while special piping in the sleeves illuminates when both the driver's hands are on the wheel.
BMW Group design chief …read more
Source:: Autocar