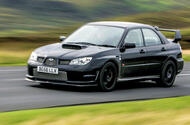 Subaru Impreza WRX STI RB320 (2007)
We pick five modern limited-edition models with a racing heritage twist that you can find on the classifieds today
Racing improves the breed, so they say, and here are five limited-edition fast cars that prove the point.
1. Subaru Impreza WRX STI RB320 (2007)
To commemorate the passing of British rally driver Richard Burns, who won the 2001 world championship in a Subaru Impreza, the Japanese car maker created the 316bhp WRX STI RB320.
It was fitted with £6000 of new parts but eventually sold at only £3500 more than a standard version. Enhancements included …read more
Source:: Autocar