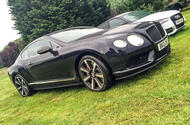 It always makes an entrance, but can it make an exit from a muddy field?
Our Bentley Continental GT tackles a muddy field
As it always does on special occasions, the Bentley seemed perfect for this year's Goodwood Festival of Speed — except for one thing.
It was bucketing down, and those already at the event kept sending us back lurid tales of floods and mud, wall to wall.
Call me old-fashioned, but the notion of tackling such conditions in your low-slung, £80,000 high-performance GT doesn't sit very well.
We veterans of the British summer have learned to fear one thing above …read more
Source:: Autocar